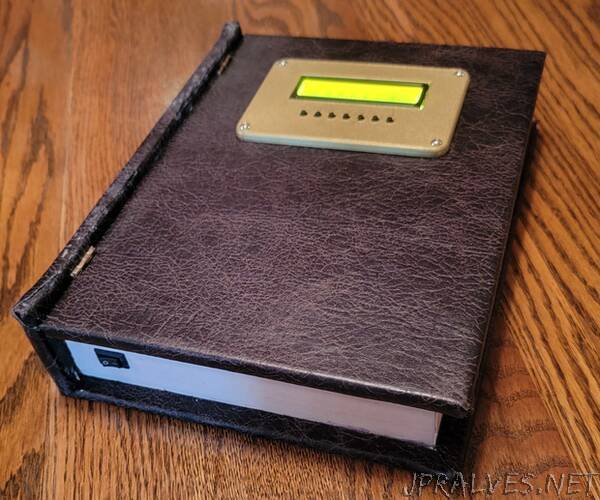 "This is a riddle word book lock box powered by an Arduino Nano. Designed for an escape room, the book lock box will automatically unlock when the gamer enters the correct answer to the riddle.
The book box itself was purchased from Michael's craft store and then modified to hold the Arduino components and locking mechanism. Additionally the book lock box was covered with a leather-looking material on the outside, and black vinyl on the inside.
To build this you will need a 3D printer (for the LCD faceplate and locking mechanism) as well as the ability to do simple soldering.
Supplies
Main components
- Michael's Craft Store book box
- Arduino Nano
- I2C 1602 Serial LCD (16 x 2)
- SG90 Micro Servo 9g
- 2 AA battery cases
- 1 rocker switch
- 9 6x6x9mm micro button switches
- 2.54mm 10-pin female-to-female flat ribbon data connector, dual row
- 2 2.54mm DC3-10 pin male shrouded box headers
- 1 2.54mm JST-XH wired 2 pin male connector with female header
- 1 2.54mm JST-XH wired 3 pin male connector with female header
- 1 2.54mm 3 pin right angle header (optional)
- 2 2.54 mm JST-XH wired 4 pin male connector with female header
- 1 2.54mm 4 pin right angle header (optional)
- 1 2.54mm 40 pin single row header
- 3/4" x 3/4" x 1" aluminum angle
- 1/4" x 1/4" x 9 3/4" square wood dowel
- (optional) - required if the material used to cover the book is thick - used to raise the hinge screw holes
Screws
- 2 M2 x 12 screws with nuts
- 4 M2 x 4 screws
- 4 M3 x 16 screws with nuts
- 4 M3 x 4 screws
- 4 M3 Nylon standoffs
- 4 battery holder wood screws (approx 5.1mm head x 9.5mm length)
- 4 book latch wood screws (approx 4mm head x 6mm length)
- 2 large servo mount wood screws (approx 7.5mm head x 19.7mm length)
- 2 small servo mount wood screws (approx 5mm head x 12mm length)
Book Covering
- 12" x 12" outer fabric covering
- 8 1/2" x 11 1/4" outer fabric covering
- 10 1/2" x 12 1/2" inner lining covering
- 9 1/4" x 6 3/4" inner lining covering"