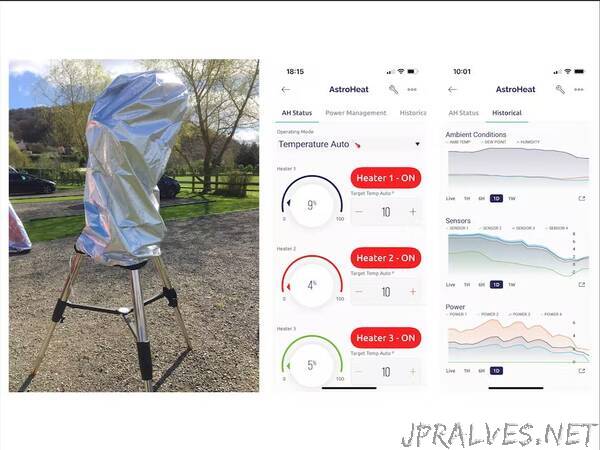 "minAstroHeat is an automatic 2-Channel dew heater controller for (astro)photography, controlled with an app powered by Blynk
1. Introduction
To avoid carrying heavy equipment in and out from my cellar, I needed a way to keep my astrophotography equipment safe and protected from the elements all year round, even during long periods of disuse. While an Arduino-based automatic heating system helped me control dew heaters during photography sessions, it wasn't enough to provide the resilience level of protection I needed.
A single sensor or power failure could leave my gear exposed to moisture and ice for days or even weeks without being noticed. That's why I set out to build a more comprehensive solution, based on a ESP32 connected to the cloud and controlled by a smartphone app powered by Blynk. This solution would give me the peace of mind I needed to leave my equipment outside safely and securely. If anything goes out of range, I immediately get a notification.
After 2 years of hard work I launched my own product, AstroHeat, the ultimate power box and USB hub for astrophotography equipment, connected to the cloud and controlled with your smartphone.
But I understand that the cost of equipment can sometimes be a barrier to entry for amateur astronomers and astrophotographers. I have been there, so that's why I am offering with this project a DIY option - building a miniAstroHeat with some of the features of the full device.
This step-by-step guide is suitable for all skill levels, with no soldering skills required. We'll be using affordable and easy-to-assemble electronic components, with a free-plan connection to the cloud through Blynk.
With miniAstroHeat you can monitor and control the power applied to the dew heaters directly from your smartphone, with two channels and two selectable heating modes (Dew Auto & individual Manual Power).
With the information and code provided, you can easily adapt the project to other more advanced configurations."