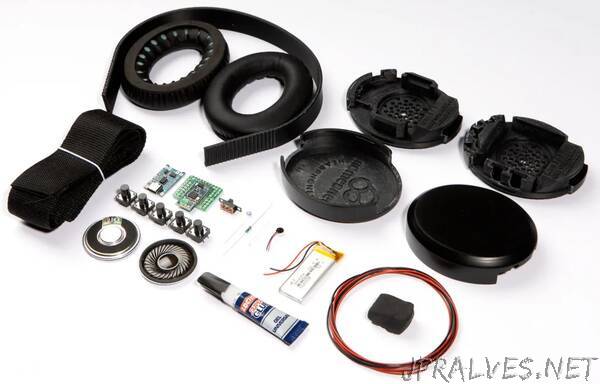 "Want to build yourself an awesome sounding, decent looking pair of bluetooth headphones? You've come to the right place!
Building these headphone doesn't require much knowledge of electronics and beyond access to a 3D printer, only basic tools. The parts can easily be sourced from Amazon and eBay for approx USD$50.
Features of the design:
They sound awesome – on par with pairs that cost around $200
All parts are readily available on Amazon, eBay, AliExpress etc
The 'look' can easily be customised by only changing the simple-to-redesign covers
Simple, robust design
Approx 5+ hours battry life and rechargeable battery
USB-C charging
Power-on and battery charge status light
Intuitive easy to use controls: the up button is vol up, the front button is track forward etc
Microphone for taking phone calls
They can be built with almost no knowledge of electronics and using only basic tools
If you want to make the corded version, see here.
Parts Required:
- Drivers: 2x Dayton Audio CE38MB-32 drivers.
- Ear Cushions: Bose QuietComfort QC15 QC2 replacements
- Bluetooth Module: I recommend CSR8645 based modules without an on board amplifier. DO NOT get one of the commonly available 5W amplifer ones – they are way over powered. This one from AliExpress will work well. The housing has been designed to take newer (and much more expensive) CSR8675 modules, although they don't have the microphone input.
- Buttons: 12x12x12mm momentary switches
- Battery Charge Module: USB-C Lithium Ion Charge module
- On/off switch: SPDT slide switch, measuring 19mm long, such as these:
- Battery: 402050 LiPo battery
- Power on LED: 1.8mm LED, colour of your choice.
- Reistor: 150ohm for the LED. Kits with a heap of values such as this one are super handy
- 2mm acrylic rod (optional): If you want a nice power-on and charge indicator that isn't too bright, use a piece of 2mm dia acrylic rod.
- Plasticine: for tuning the sound. You can also use polymer clay.
- 25mm/1″ heatshrink: to protect the headband and prevent it breaking in use.
- Microphone (optional): 6mm * 2.7mm such as these off AliExpress. I recommend getting ones with wire pigtails attached
- Wire: 24AWG hookup wire
- 3mm dia heatshrink or electrical tape
- Glue: Gel consistency superglue. I recommend Loctite Gel Super Glue
- Solder"