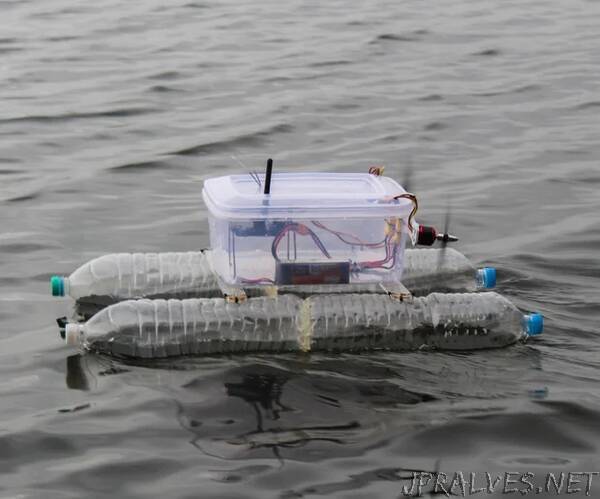 "Recently there have been beach restoration projects in our city and instruments were required to measure the depth of the sea floor at various locations. This process turned out to be tedious and expensive due to the labor costs as well as the expensive equipment. A boat was fitted with various sensors and drove along the coast for hours.
This inspired me to build a small scale autonomous boat to perform the same tasks. The boat could be fitted with the necessary sensors and programmed to drive along a desired path and collect the necessary information. The boat would also consist of a radio based telemetry system so that the health of the boat could be monitored in real time. The boat needs to also have the feature of working autonomously and manually.
Apart from this specific experiment, I wanted to create a platform for a more general requirement, such that sensors could be easily swapped out to perform other experiments. Additionally, the aim was to create a low cost system using recycled parts and materials.
This project was built in collaboration with PCBWay. PCBWay is a PCB Prototype Manufacturer which produces high quality PCBs for projects like these and various other industrial applications at low costs.
Follow on to create your own Long Range Autonomous Boat using recycled materials and reclaimed parts and do drop a favorite and follow this page if you enjoyed the project and decide to build your own version. I would love to see your own versions so do post your creations using the "I made it" section.
Here is the list of all the components and parts required to make your very own Long Range Autonomous Boat. All parts should be commonly available and easy to find in local hardware shops or online.
ELECTRONICS:
- Arduino Uno x 2
- BLDC Motor x 2
- 30A ESC x 2
- Power Distribution Board x 1
- 11.1V LiPo Batter x 1
- 6 Channel Transmitter and Receiver x 1
- NRF24L01 Transceiver module x 2
- Compass Module (qmc5883l) x 1
- GPS module (Neo-6M) x 1
MATERIALS:
- 2 Liter Water Bottle x 4
- Plastic Tupperware Container x 1
- Quadrotor Propellers x 2
TOOLS:
- X-Acto Knife
- Hot Glue
- Super Glue
- Zip Ties
The materials can easily be recycled or found lying around in the house. The electronic components can be reclaimed from old quadcopter builds."