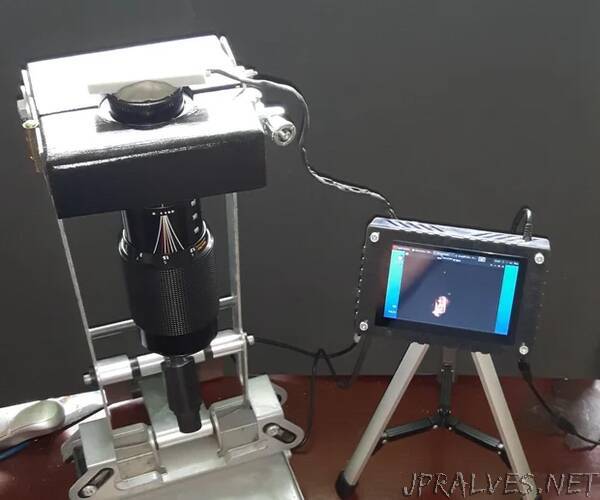 "Firstly I wish to thank Instructables and all the contributers helping me in the past!!
This is my first time ever to write something like this(let alone anything for the public) on the web for all to see.
I like free. I will give for nothing I like to take for nothing. If we all do it then this world would be a better place. I have done quite a few projects in the past scavenging from skips, unwanted junk and recycling the parts. This time I remembered to take photos of the process of this project.
Soldering was becoming more difficult for me and magnifying glasses weren't much help. I saw on the net that someone used a zoom lens from cctv camera and attached it to a webcam. I didn't have a cctv zoom lens. But I did have an SLR zoom lens! I liked the idea that there is alot of space between the lens and object. Space to work on. So I started this project. Besides I have lots of goodies lying around in my office and its getting more cluttered and now I got to use them up!
All the parts Are from old projects or bits lying around my office. The goal was not to buy anything but re/upcycle what I had. So I don't know the prices.
I will split this project into 3 parts:
1. Lens and viewing screen
2. Stand
3. Lighting rig
Advise: If you don't have the parts or tools then think out of the box.
Supplies
Parts (If you can't find then improvise)
Lens and viewing screen
SLR Canon zoom lens FD 70-210mm 1:4
Canon Extender FD 2X-B
Canon rear lens cap
Laptop camera
Male to female usb 2 cable and panel mount socket
Delta Steel Stick
Asus thinkerboard s v1(or almost any SBC or even PC, MAC, Lappy)
Waveshare 5" screen
Hdmi fpv 90 degree plug +cable 150mm x2
Microusb fpv 90 degree + cable 150mm x2
USB 2 fpv straight x2
Risers 10mm Male Female x4
Lavolta 5v 3A powersupply
Micro usb on/off switch
Toy tripod
Camera tripod ball joint
Threaded rod 1/4-20 UNC 70mm
Butterfly bolt 1/4-20 UNC
Screws for risers x4
Alan Bolts 5mm 80mm x4
ScanDisk untral 16gb
Stand
TV wall mount
Lazer from a toy
Bicycle speedo holder
Self adhesive sponge strip
Block of wood 40mm x 140mm x 140mm
Hinge and screws
Sash window security lock and screws
Screws for risers x4
Alan Bolts 5mm 80mm x4
Threaded rod M8 170mm x1
Nut M8 x1
Butterfly nut M8 X
Self adhesive foam 10mm thick not too stiff
Lighting rig
2x Strip of LEDS from bathroom mirror more the better(had 2)
3x M5 70mm bolt
DC plug and socket
3D printout
Tools (If you don't have then improvise)
Saw
circular saw
miter saw
drill and drill bits
screwgun(or screw drivers)
alan keys
soldering iron Solder etc
Super glue
Thread tap for screws( if you don't have try either self tapping screws.
calipers for measuring
Hot gluegun with glue
Soldering iron
3d printer(or from a friend like I did. Thanks Simon!)
USB card reader for micro sd card
Drill and drill bits
Software
Windows 10
BalenaEtcher
Virtual Keyboard
Guvcview
Thunderbird (optional)
Remember, all these things I had lying around. You might not have the same but the principle is the same. If you want to build a Soldering microscope."