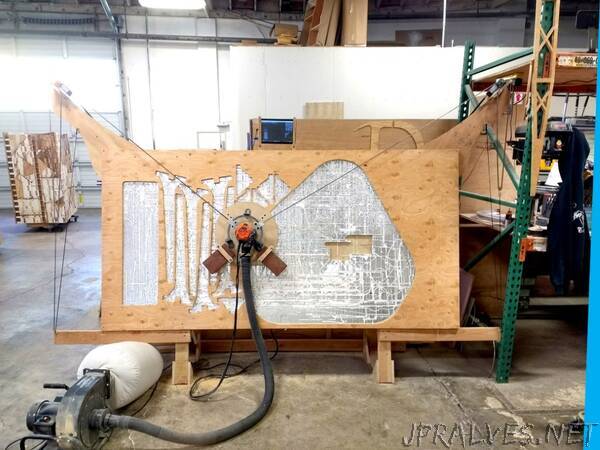 "The Maslow is a large format CNC router capable of cutting wood and other materials with precision and repeatability, based on a digital file. A CNC (computer numerical control) machine allows makers to automate the cutting process in woodworking and other manufacturing operations. When the Maslow kit is built and software is installed, makers will have a fully functional CNC machine able to cut a surface of 4×8 feet, with adjustable cut depth. The design is open source so anyone can build it, from scratch or from a kit.
The application for this tool is enormous. Cabinet makers, hobbyists, sign makers, woodworkers, furniture makers, and more have all seen the value in automated cutting that can multiply their productivity and produce extremely intricate designs. Whether for personal use, side hustle, or full-time day job, the Maslow CNC is an incredibly versatile tool. You can build it for about $600 if you've already got an ordinary fixed-base router, and unlike traditional flatbed CNCs, its upright design takes up very little floor space in your shop or garage.
Maslow began as a hobby project of Bar Smith in 2015. In 2016 Hannah Teagle joined to help run a Kickstarter campaign to build an open source community around the project. In 2017 they showed the machine at Maker Faire Bay Area, shipped four batches of kits sending thousands of vertical CNC machines around the world, and watched the community take off.
Soon the logistics of packing and shipping kits became too much, and Bar and Hannah asked the Maslow community for help. They publicly posted the design files and made the factory tooling available to anyone who was willing to take on the task of continuing to make kits.
Maker Made CNC stepped forward and made kits available again only a few months after the last kit from Maslow shipped. Their mission is to continue the work of Bar and others by investing in updates to make the kit accessible to a wider audience of makers, and introduce products and accessories that will further enhance its functionality and capabilities."