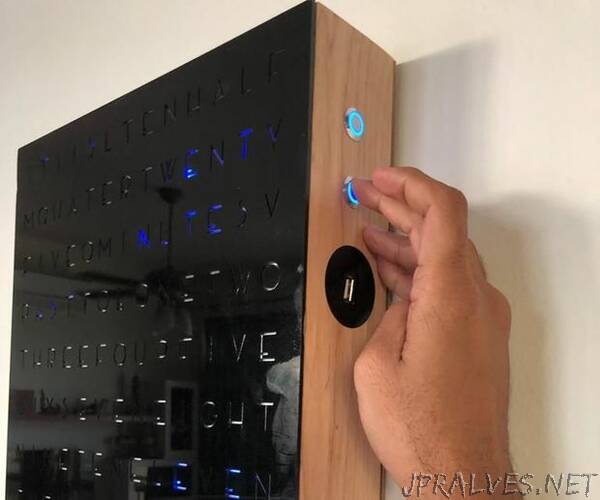 "A big thanks to Super Make Something as this project was inspired by their Neopixel Word Clock. I created this clock as a part of my IGCSE Design & Technology course and received an A* for it. The CAD model was built on fusion beforehand a thus isn't a 100% accurate model.
The aim of this product was to be simple and minimalistic to fit into an office environment. The clock is a fun and unique way to show time in 5-minute intervals and uses RGB LEDs to spark things up. This Instructables guide will hopefully take you on a detailed step-to-step journey so you can also create your own word clock. It's quite simple :)
The document attached below might help later on with the dimensions. I also strongly recommend that you watch the video linked above as it will help to further understand the assembly behind this clock.
Electronics:
32x WS2812B RGB LEDs
11x Male to Male jumper cables
1x Arduino Uno
2x Ring Led PTM Button
1x Female to Male USB Cable
1x Male to Male USB Cable
1x Male USB Type A to Male USB Type B Cable
1x Powerbank
Materials/Cutting List:
2x 325mm x 295mm x 10mm Maple Wood (Ash Wood Work Just As Good)
2x 315mm x 285mm x 10mm Maple Wood (Ash Wood Work Just As Good)
1x 325mm x 315mm x 5mm MDF Wood
1x 295mm x 285mm x 5mm MDF Wood
1x 325 x 315 x 3mm Black Gloss/Matte Acrylic (Gloss looks better but gets fingerprints and scratches easily)
Tools:
Vernier Caliper
Triangle Square
Circular Saw
Miter Guillotine
Linisher With Angular Guide (Optional But Recommended)
90° Corner Clamps
Miter Clamp (optional)
Bench Drill With A Bench Drill Clamp
Drill Bits (5mm, 10mm, 16mm)
Hole-Saw (48mm)
Laser Cutter (Should Work For Both Acrylic And Wood)
Adobe Illustrator
Photocopier
Scroll Saw
Disc Sander (Optional)
Soldering Iron & Solder
Multicore Wire
Hand Drill
Hot Glue Gun (Optional)
PVA
Epoxy Resin
Counter Sink (Optional But Recommended)
Screws & Screw Driver
Rough & Fine Sandpaper (Optional But Recommended)
Beeswax (Optional)
Laptop"