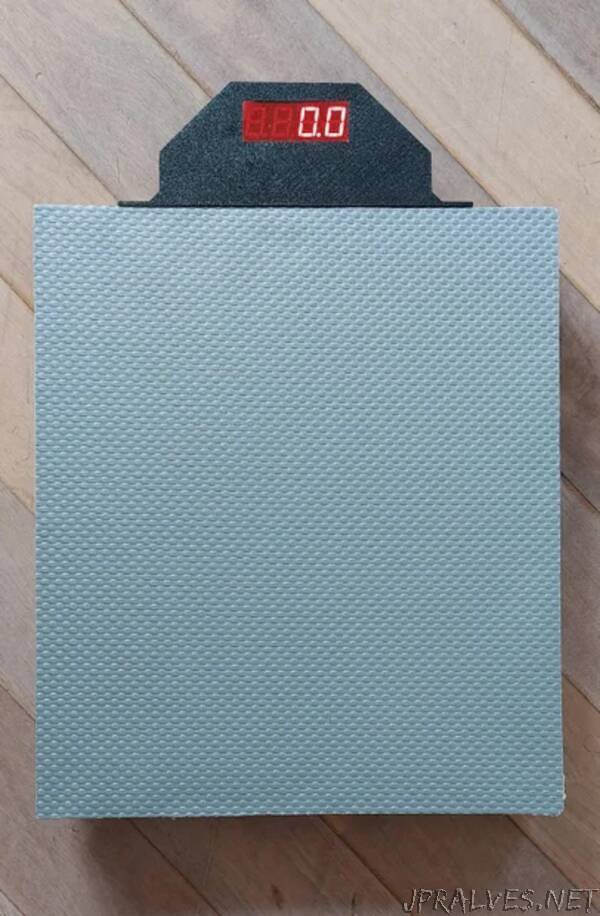 "Common commercial bathroom scales allow a long battery life thanks to the use of low-consumption displays (typically LCD without backlight) which, however, in low light conditions are not easily readable.
My idea was to build a load cell based scale with a high-visibility 7-segment LED display, and a timer to completely shut down the circuit at the end of each weighing cycle. My goal was to achieve a battery life of at least 2 years, considering to perform 4 weighing cycles per day.
In addition, to make it user friendly and avoid having to bend every time, the turning on of the scale had to be possible with the simple touch of the foot on a touch-sensitive area of the footboard.
Supplies
I used the following materials, but you may find many equivalent or better parts:
- 3 x 1.5V AA alkaline battery
- AA battery box, 3 slot like this one (but I recovered an used holder from my scrapped parts box)
- Cable with JST connector 2 PIN 2,54mm
- JST male connector 2 PIN 90° 2,54mm
- Touch key switch TTP223, I bought it here
- 2 x resistor 2.2K, 1/4W
- NPN transistor BC547, or similar
- Reed relay 5V SIP-1A05, bought here
- Diode 1n4004, or similar
- Arduino Pro Mini 5V/16MHz microcontroller module, like this one
- Strain gauge weighing kit, 4x50kg cells + HX711 amplifier module
- LED display module, 4x7segments, I2C interface
- Standard DuPont non polarized connectors, right female and bent pin headers strips
- 3-wire flat cable, 10cm
- Prototyping board, 90x20mm
- Prototyping board, 40x20mm
- Square or rounded square plate, solid wood 250x300x18mm
- same shape & size plate, plywood 250X300X5mm
- same shape & size non-slip mat
- 70 cm adhesive cable duct 1.3x0.7cm
- 3D printed parts (see attached .stl files)
- Wood screws, 8 x M4x16mm - 6 x M2x6mm - 2 x M2.3x5mm - 5 x M3x10mm
- 3 x neodymium magnet 8x2mm"