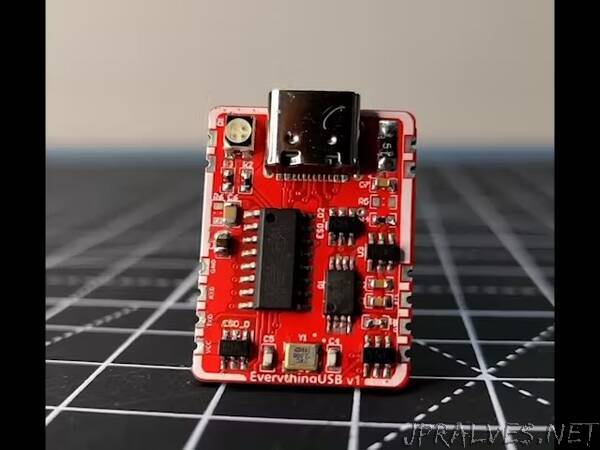 "Introducing EverythingUSB module - USB C connector, castellated, overcurrent & ESD protection, single-cell battery charging, and more.
Are you tired of dealing with messy wires and unreliable connections? Say hello to EverythingUSB module!
- A USB-C type connector configured for a fixed 5V output, with ESD protection on data lines
- VCC supply is overcurrent protected, through a 500mA fuse
- ESD protection on all UART pins, providing an additional layer of protection against electrostatic discharge that can damage sensitive components.
- Single cell battery charging with up to 1A current, allowing you to quickly and easily charge your device without the need for an external power supply.
- Charging status LEDs that let you know when your battery is fully charged and ready to go.
- Castellated holes that make it easy to integrate the module into your designs, allowing for seamless incorporation into your existing systems.
- A compact size of 20x27 mm that doesn't take up much of your space on PCB, drop in this
CH340G USB to TTL chip serves the main purpose of the module, along with DW01A charge protection IC, FS8205A mosfets for battery cut-off, SRV05 for ESD protection, TP4057 configured for 1A charging current, 3528 LED for charging indication and 500mA PPTC smd fuse.
Castellated vias make the design easily deployable, replaceable and stackable. Small size of 27mm X 20mm makes it a great choice to add in existing designs without major changes required.
Elecrow has done an excellent job at manufacturing non standard castellated holes. PCB finish is exceptional and it is the cheapest PCB manufacturer in the market with just $1 for 10 PCBs (This offer is for first gerber file of each day). I highly recommend their services."