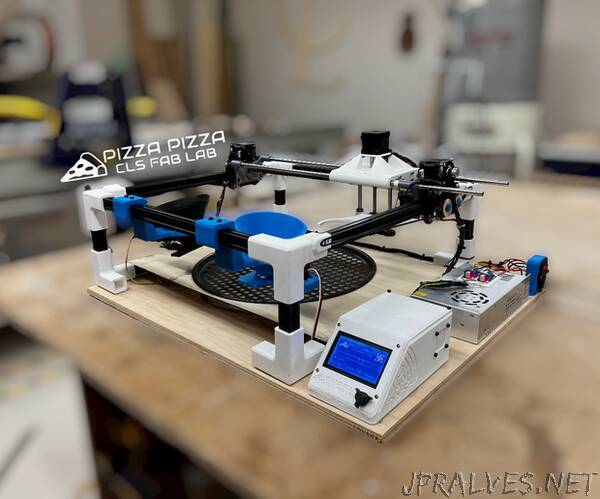 "A Pizza-Preparing, Tool-Changing, 3-Axis, 3D-printed CNC Machine!
Hey! I'm Teddy Warner,a senior in high school enrolled at Charlotte Latin School in Charlotte, North Carolina. I have a great interest in modern digital fabrication technologies such as 3D printing & CNC machines.
The Pizza-Pizza CNC Machine is a Marlin-based three-axis CNC I developed alongside three of my friends. My contributions to the project include the gantry, electronic housing, and parts of the frame CAD, as well as the machine's electronics system, firmware, and pizza-preparing gcode. This publication covers the fabrication of the CNC in-depth, with a focus on my project contributions, while also including final-result media.
The machine includes two tool ends, one for sauce distribution and another for cheese, with the potential for expandability to have toping tool ends in future iterations. The CNC is mostly 3D printed, with the exception of its aluminum rails and laser-cut wooden baseplate, and operates with a mini RAMBo - or RepRap Arduino-Mega-compatible Mother Board.
Supplies
- 1.75mm - 1kg - White PETG - $23.99
- 1x - Mini RAMBO - $95.00
- 1x - Creality LCD - $22.79
- 1x - 12v DC Power Supply - $20.98
- 1x - AC Power Adapter - $8.99
- 1x Pack - V-Rollers - $9.99
- 1x Pack - Linear Bearings - $10.95
- 4x - NEMA 17 Stepper Motors - $12.99
- 2x - Servo Motors - $16.99
- 1x - 40mm x 10mm Fan - $13.95
- 2x - Steel Linear Motion Rods - $14.39
- 2x Packs- 20x20 Aluminum Extrusion - $50.99
- 10 Meters - Stepper Belts - $14.99
- An assortment of M3 Hardware - Bolts, Nuts & Screws
Software & Tools
- Autodesk Fusion 360
- An IDE of some sort - I like VSC with Platform IO, although the Arduino IDE also works great
- Soldering Iron
- Wire Cutters
- Tweezers
- Laser Cutter (Or access to order laser cut parts)
- 3D Printer (Or access to order 3D printed parts)
- An In-Circuit Programmer- this can be bought or fabricated, be sure to check out my UPDI Serial Programmer
- Basic Woodworking tools ( Drill, Saw, Chisel, etc.)
- An M3 Allen Key
- Hair Dryer
- Hot Glue Gun"