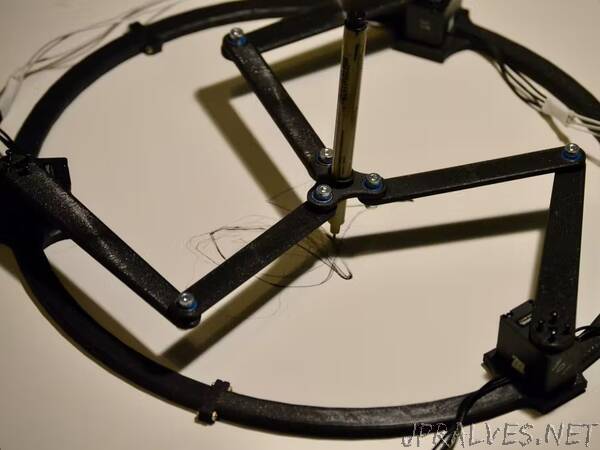 "This is a 3R Planar robot that I am using to create generative art.
I wanted to attempt to create a piece of generative art like Vera Molnar, the issue is how do you physically do that? The answer came in the form of a 3R planar robot that I found on the internet. So then I CADed up my own and off I went. It uses three Dynamixels around the circumference of a 12inch circle. I was heavily influenced by the Robotis OpenManipulator, but wanted to make my own that was more affordable and for the most part easier to use. Sadly, I ran out of time to integrate ROS into the system.
For the most part I really enjoyed working on this project and will continue to do so, most of the code is straight forward and easy to understand. I cannot wait to see what other go and do with this.
If you do choose to make this, the Robotis emanuel is your new best friend. I used the dynamixel shield for the MKR seires, three daisy chained XL_330's, a MKR 1010, and the printed parts— you will need some screws and ball bearings for this project: M2 x 6mm (12), M2 x 8mm (12), M3 x 12mm (6), M3 washers (6) M2 nuts(6), and 10mm diameter with a 5mm inner diameter ball bearings(12). That should be about it, happy making!"