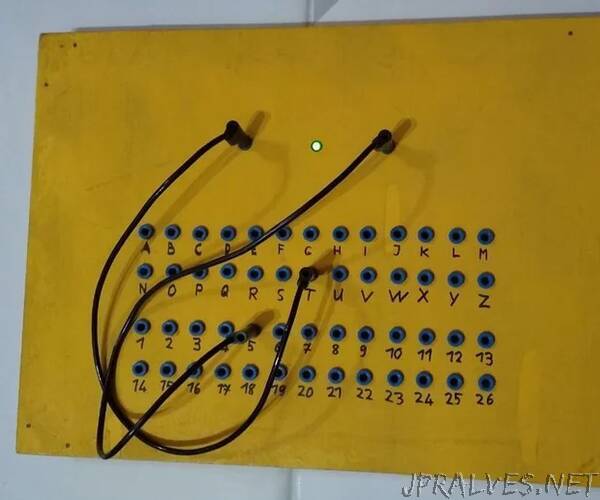 "This is kind of an old project. I'm not the first to describe something like this and even way back then, when I was 12 or 13 years old an built this, I had my very clear inspiration. My grandma had such a game left from my uncle and I'm sure we could have taken it with us, if we had asked nicely. But building one myself (I was the hardware-guy) seemed way cooler. And it was.
I was quite unsure, if I should even describe such an old project. But back then I was quite proud of it and I still like it with all it's flaws. But above all, after years of slumber in a cardboard box I took out the prototype of the upgraded version and finally completed it. And it came out quite marvelously. So I want to make a instructable, when I put together the next one and it might be easier to explain, if I can just put in a link to the original project, so everyone can have a look where it came from.
Technically this simple game is a very simple decoder. If you connect the fittiing letter-number-combination a LED will shine. That's all there is. In combination with quiz sheets it becomes a game. There might be the picture of a Lion with the number "1" alongside some other numbed animal pictures and a list of the animal names like Lion "K", Tiger "C" and so on. If you connect this numbers and letters you can check if your guess was right.
My siblings and I made a whole folder of such quiz sheets. So they get the next upgraded exemplars I build. Yeah, they are kinda old for such games but you can always hope for the next generation.
Supplies:
- two boards of ply wood or MDF (420x310x3 mm ply wood for the game, 428x248x3 mm MDF in some example shoots to demonstrate the building process)
- 1.5 to 2 m of 20x20 or 25x25 mm square wood (the thickness of the square wood and one of the boards combined must be more then the mounting depth of the sockets or buttons)
- 54 banana sockets and two banana leads (4 mm) or 52 buttons
- a 5 mm LED (green) with socket and series resistor
- a battery holder (e.g. for 2x 1.5 V Mignon or Micro Batteries or a one 9V Battery)
- some wires
- solder
- wood clue, nails and screws
- spray paint (if you want to color the game fast)
Tools
- power drill and drills
- saw
- soldering iron and wirestripper
- center punch and hammer
- screw driver"