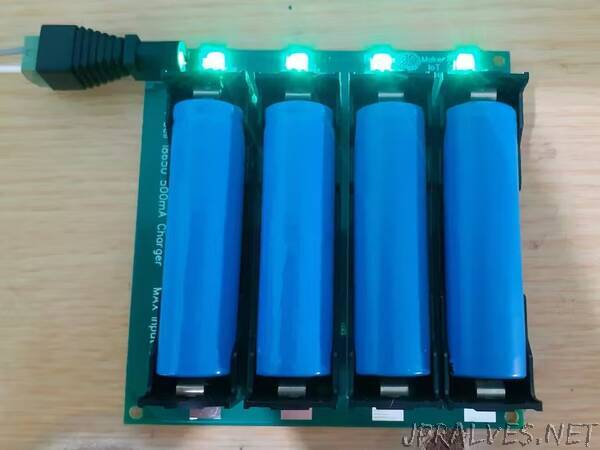 "18650 LiPo cells are almost everywhere these days. Keeping them properly charged and maintained can be quite a pain. My attempt to fix this.
Due to their high capacity and relatively low cost, LiPo cells are almost everywhere these days. This Low BOM cost 4-cell 18650 Charger module is my attempt to solve another issue.
The 18650 Lipo cell is quite common in my lab, and for an excellent reason, as mentioned above, they are cost-effective and also store quite a bit of energy. recharging them after use has however been quite a lengthy exercise in the past.
The usual process involved a few Lipo Charging modules, all connected via USB cables, charging one cell at a time. This not only takes up quite a bit of time and space but also occupies USB ports that could be used for other purposes.Based on the ultra-cheap TP4056 chip, these single-cell charging modules cost peanuts, but with the required wiring and battery holders, as well as the cables to supply power, it does not really look very neat. I have thus been looking for a better solution for quite a while now, and had quite a few requirements for my "ideal" module.
The MCP73832 from MICROCHIP seemed like a good choice for a custom design, as it requires only 5 additional external components, which are only two resistors, two capacitors and an led. The chip is also extremely low-cost.
- High accuracy preset output voltage regulation (+/-0.75%)
- Output voltage options include 4.2V, 4.35V, 4.4V and 4.5V
- User-programmable charge current
- Open-drain status output
- On-chip thermal regulation
- Preconditioning and end-of-charge ratio options
- Under-voltage lockout
Includes integrated pass transistor, integrated current sensing, and reverse discharge protection in 5-pin SOT-23 and thermally-efficient 8-pin 2mm x 3mm DFN packages."