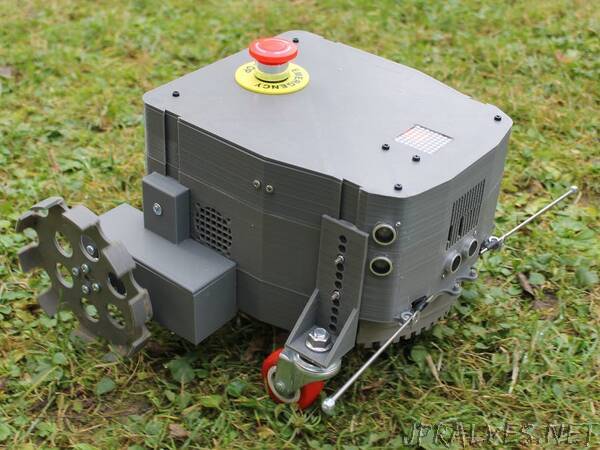 "Autonomous Robot lawn mower, with bluetooth connection for RC mode.
I decided to build by myself my Robot Lawnmower, with Arduino Mega 2560 Board. The whole process has taken a long time, with some experiments and now the configuration is completed and Mowerino works fine. Stay tuned with this project because I would like to improve it in the future.
WARNING!
This project is not a toy, it contains sharp blades which can cause serious injuries if it is not used carefully. Do not leave unattended!
The blades are protected by bulkheads, check before use that they are correctly fixed.
On the back there are:
- one power push button
- one potentiometer in order to control the blades speed
- one AUTO/ MAN (Bluetooth) selector
In AUTO mode the Mowerino goes ahead until it meets an obstacle, in this case Mowerino stops, goes back and changes direction.
Sensors for avoiding collision are:
- Three Ultrasonic sensors
- Two limit switches
A matrix led display shows what's happening and other sensors are installed inside:
- one Anti-tipping sensor (inclinometer)
- one Voltmeter sensor (smile face on the display if battery is OK, sad face if it's low )
In MANUAL mode is possible to connect via Bluetooth a smartphone with the App Bluetooth RC Controller. Using this App is possible to run the Mowerino in all directions and to activate the blades.
It is possible to decide the height of the cut moving and securing the wheels supports.
An Emergency Push Button on the top shuts off completely the Mowerino."