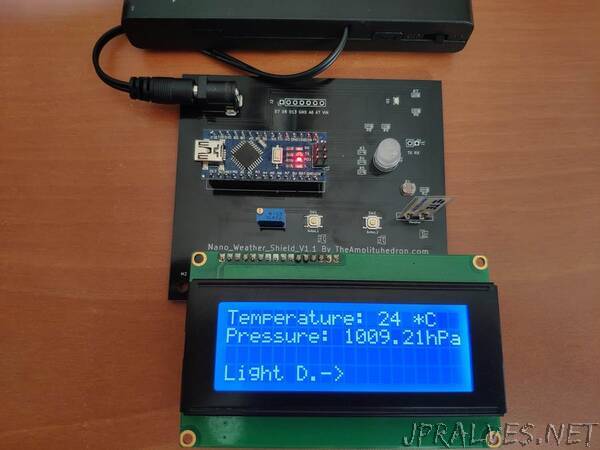 "Display weather information and activate RGB color patterns via this shield, including built-in BMP280 and photoresistor, designed by me.
Description
Even though it is my first attempt at designing a PCB board and layout, I wanted to share with you my project step-by-step and will continue to post my further electronics projects including PCB designing or any possible improvements to this project here. In this particular project, I contemplated a shield for Arduino Nano, which can gather weather-related information by a built-in BMP280 Temperature and Pressure Sensor, a photoresistor, and a vibration sensor.
To get more information about other features and specifications of Nano Weather Shield V1.1, check out the features section below.
All components presented in this project and PCBA service are sponsored by SeeedStudio, except for optional components - Arduino Nano and 20 x 4 LCD Screen. You can try their PCB assembly service from here.
You can download Gerber, fabrication, and BOM files of Nano Weather Shield V1.1 below. I designed the shield in KiCad, and therefore all provided files are available only in KiCad format."