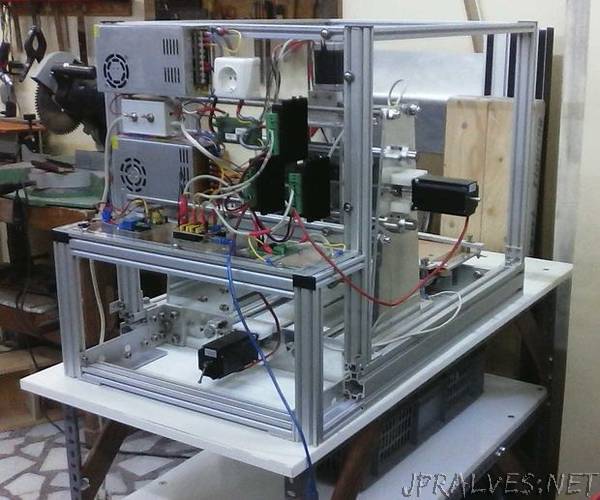 "Goal for this machine :
Arduino based 3-Axis machine
Cutting material : wood , plastic , aluminum
Repeatibility < +/- 0.1 mm
Cost < $500
Travel : X-Axis > 300 mm Y-Axis > 450 mm Z-Axis 50 mm
This goal in mind, fixed gantry design was decided for improved rigidity and design simplicity.
Frame :
Aluminum parts laser cut from 6mm plate and V slot aluminum extrusion bolted together.
Linear Guide :
Induction hardened chromium plated linear guide rods and linear bearings LMK20UU for X and Y-Axis and LMK12UU for Z-Axis.
Linear Drive :
T8 OD 8 mm lead screws pitch 2mm lead 2mm with Pillow Block End Bearings and Anti Backlash Nut Blocks.
Drive Motor and Controller :
Nema 23 381 oz-in 3.5A KL23H2100-35-4B stepper motors for X and Y-Axis and Nema 23 57HS22 stepper motor for Z- Axis. TB6600 step motor drivers. 24 V DC power supply 16.7A 400W
Spindle :
500 W DC air cooled spindle.
500 W 48V 10.4A power supply.
PWM speed governer."