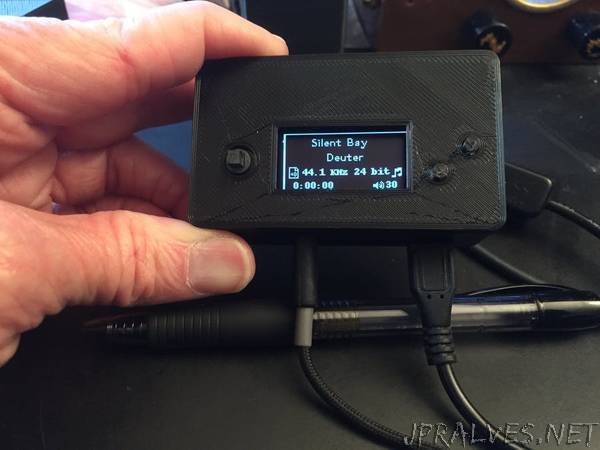 "This tiny imp does it all: on-the-go player or WiFi/AirPlay streamer, battery bank or wall power, headphones or speakers.
Story
While making travel plans for the year, I thought it would be really nice to have the single, smallest possible music player to take along. Something that does it all - play from NAS or all my music direct from the device; be able to play on a long flight or walking around; hook up to a powered speaker for a (semi-) stationary player. You can even play Spotify! And do AirPlay!
Yep, you can do all this from a phone. But, I had about 100GB of music, and I enjoy total control of it.
So, the Volumio Mini Player was born. Well, "started gestation"… It took a while to think through what I really wanted. I gradually settled on the following features.
Overview
Run on a Raspberry Pi Zero W
Use the popular and powerful Volumio, open-source media software
Be able to use headphones or line-out
Have a nice screen to show Now Playing, Volume, Play Duration
Buttons for volume up/down
5-way navigation switch to offer Prev-Next Song, Pause-Play, Shutdown
Cost: About $60 USD, not including 3D print. Does not include the cost of microSD card.
SkillLevel: Easy! Some soldering is required for long stacking headers on an un-populated raspberry pi zero W
Effort: About 3 hours for assembly and configuration. 3D print times about 2.5 hours for top/case/button extenders
The contributions from the Volumio and NanoMesher teams were critical to this project. Please support these folks!"