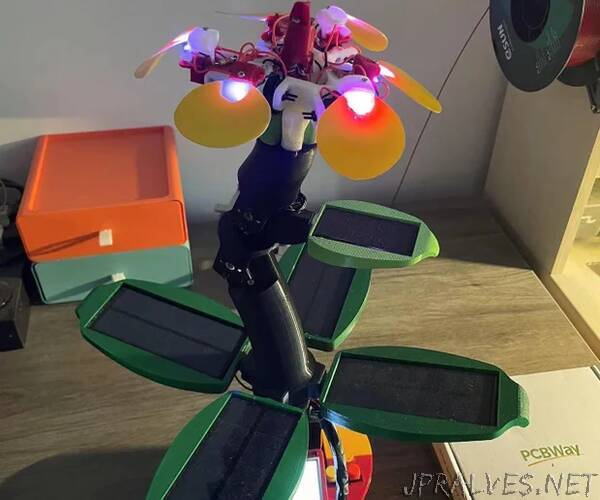 "This project is the design of a mechanical flower which is sensitive to light and moves in the direction of light. I started off in my mind to design a compact one but as always things don't necessarily go exactly as planned. Having turned out to be a bit bigger than I hoped, I am happy that this would make a nice addition to display in my living space. The flower can be powered by solar panels as well as charged externally if required. If kept in a well lit place and the solar charging enabled it could go on working for long periods of time without charging.
I have designed the flower with 6 moveable petals and the stem is of three parts where the two upper parts are moveable. The stem has two degrees of freedom whereas each individual petal has one degree of freedom. All the parts were designed in Fusion 360 and 3D printed. The petals are lighted up with individual addressable Neo-pixels and are powered by a 5V battery which is recharged using solar panels.
The Flower is controlled using a Raspberry Pi Pico and programmed in Circuit Python which is a fork of Micro Python which is similar to the python programming language. It also has a ST7735 tft display which shows the date and time information from the DS1307 Real Time Clock module. Special thanks to PCBWay for providing the PCB for this project.
Supplies
2 x ES3001 37g Analog Servos (Most hobby shops or RC Aircraft parts shops have these. I had them from an old project I worked on)
3D Printing Filament (Black, Red)
Spray Paint (Yellow, Green) - I used them because i didn't have the color 3D filament.
3D Printer
Hex Screws and Nuts (Diameter 2.5mm) 10mm and 15mm lengths
Super Glue
Radial Bearing
6 x 4.3g Digital Servo (These also can be obtained from RC Aircraft parts shops)
5V Lipo Battery (3600 mAh)
5V 3A Solar Charge Controller
1 x Thrust Bearing (Inner Diameter: 8mm, Outer Diameter: 22mm, Height:7mm)
1 x Radial Bearing (Inner Diameter:8mm)
4 x 200mA Solar Panels (120mm x 60mm)
1 x 60mA Solar Panel (68mm x 37mm)
28AWG Electrical Wires
22AWG Electrical Wires
1 x Roller type Omron Limit Switch
2 x Push Buttons
1 x One Way On/Off switch
1 x Two Way On/Off switch
3 x Photo-resistors
3 x 10KOhm resistors
1 x IN5933 diode
1 x IN4007 diode
1 x Raspberry Pi Pico
1 x DS1307 RTC module
1 x Logic Level Convertor module
1 x ST7735 TFT display
1 x 24BYJ48 stepper motor
1 x ULN2003 stepper driver module"