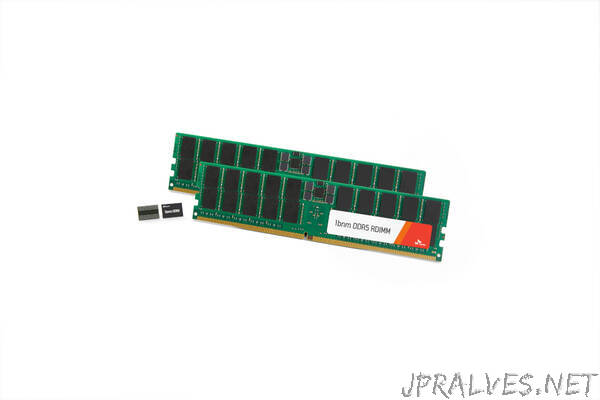 "SK hynix Inc. (or "the company", www.skhynix.com) announced today that it has completed the development of the industry's most advanced 1bnm, the fifth-generation of the 10nm process technology, while the company and Intel began a joint evaluation of 1bnm and validation in the Intel Data Center Certified memory program for DDR5 products targeted at Intel ® Xeon® Scalable platforms.
The move comes after SK hynix became the first in the industry to reach 1anm readiness and completed Intel's system validation of the 1anm DDR5, the fourth-generation of the 10nm technology.
The DDR5 products provided to Intel run at the world's fastest speed of 6.4Gbps (Gigabits per second), representing a 33% improvement in data processing speed compared with test-run products in early days of DDR5 development.
Besides, with the adoption of high-K metal gate2 process, the 1bnm DDR5 products reduce power consumption by over 20% than 1anm DDR5 products.
SK hynix emphasized that the development of the latest 1bnm technology will enable the company to provide its global customers with DRAM products that offer both high-performance and performance per watt.
"SK hynix expects the validation process of the 1bnm DDR5 product with Intel to go smoothly following a successful validation of our 1anm server DDR5 product compatibility with the 4th Gen Intel® Xeon® Scalable processors," Jonghwan Kim, Head of DRAM Development at SK hynix, said.
"Amid growing expectations that the memory market will start to recover from the second half, we believe our industry-leading DRAM technology, proven again through mass production of the 1bnm process this time, will help us improve earnings from the second half," Kim said, adding that the 1bnm process will be adopted for a wider range of products such as LPDDR5T and HBM3E4 in the first half of 2024.
Intel Vice President of Memory and IO Technologies, Dr. Dimitrios Ziakas said, "Intel has been collaborating with the memory industry to ensure compatibility of DDR5 memory on Intel® Xeon® Scalable platform. SK hynix 1bnm is the first of its generation being targeted for the next Intel® Xeon® Scalable platform" and the Intel Data Center Certified memory program.
Meanwhile, SK hynix also said that additional validation processes to apply its 1anm DDR5, of which the first compatibility test has been already completed, onto the next generation of Intel® Xeon® Scalable platform are also underway."