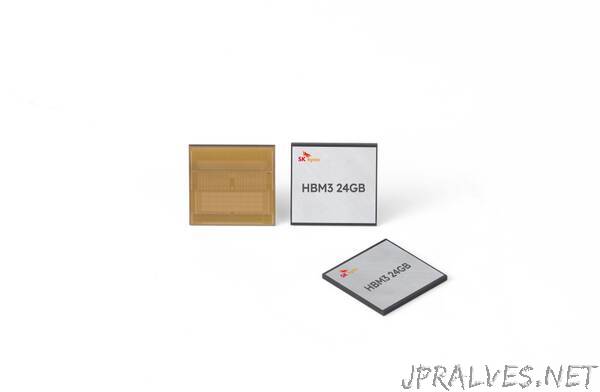 "SK hynix Inc. (or "the company", www.skhynix.com) announced today it has become the industry's first to develop 12-layer HBM3 product with a 24 gigabyte (GB)2memory capacity, currently the largest in the industry, and said customers' performance evaluation of samples is underway.
"The company succeeded in developing the 24GB package product that increased the memory capacity by 50% from the previous product, following the mass production of the world's first HBM3 in June last year," SK hynix said. "We will be able to supply the new products to the market from the second half of the year, in line with growing demand for premium memory products driven by the AI-powered chatbot industry."
SK hynix engineers improved process efficiency and performance stability by applying Advanced Mass Reflow Molded Underfill (MR-MUF) technology to the latest product, while Through Silicon Via (TSV) technology reduced the thickness of a single DRAM chip by 40%, achieving the same stack height level as the 16GB product.
The HBM, first developed by SK hynix in 2013, has drawn broad attention from the memory chip industry for its crucial role in implementing generative AI that operates in high-performance computing (HPC) systems.
The latest HBM3 standard, in particular, is considered the optimal product for rapid processing of large volumes of data, and therefore its adoption by major global tech companies is on the rise.
SK hynix has provided samples of its 24GB HBM3 product to multiple customers that have expressed great expectation for the latest product, while the performance evaluation of the product is in progress.
"SK hynix was able to continuously develop a series of ultra-high speed and high capacity HBM products through its leading technologies used in the back-end process," said Sang Hoo Hong, Head of Package & Test at SK hynix. "The company plans to complete mass production preparation for the new product within the first half of the year to further solidify its leadership in cutting-edge DRAM market in the era of AI.""