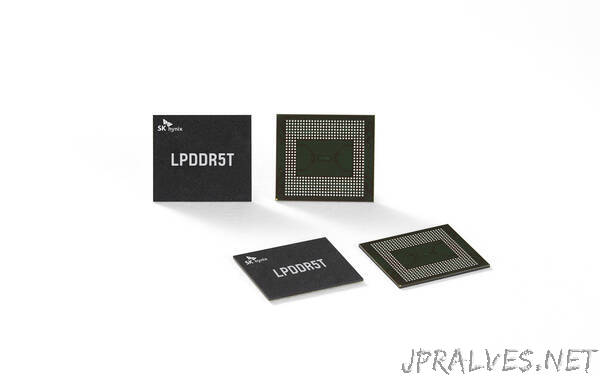 "SK hynix Inc. (or "the company", www.skhynix.com) announced today that it has developed the world's fastest mobile DRAM 'LPDDR5T (Low Power Double Data Rate 5 Turbo)' and provided sample products to customers.
The new product, LPDDR5T, operates at a data rate of 9.6 gigabits per second (Gbps), 13% faster than the previous generation LPDDR5X1 unveiled in November 2022. To highlight the maximum speed the product features, SK hynix added 'Turbo' at the end of the standard name LPDDR5.
LPDDR5T, which operates in the ultra-low voltage range of 1.01 to 1.12V set by the JEDEC (Joint Electron Device Engineering Council), is a product that not only features utmost speed but ultra-low power consumption.
"The company pushed the technology to new limits in just two months after LPDDR5X, mobile DRAM with 8.5Gbps specification, was introduced to the market in November 2022," SK hynix said. "We will solidify our leadership in the mobile DRAM market by providing products of various storage capacities that meet customers' needs."
SK hynix said it provided customers with samples of 16 gigabyte (GB) multi-chip package, which combines multiple LPDDR5T chips into one package. The packaged product can process 77GB of data per second, which is equivalent to transferring fifteen FHD (Full-HD) movies in one second.
SK hynix plans to begin mass production of LPDDR5T using 1anm, the fourth generation of the 10nm technology, in the second half of the year.
Meanwhile, SK hynix has, again, integrated the HKMG (High-K Metal Gate)2 process in the latest product that enabled the new product to deliver the best performance, and expects LPDDR5T, which substantially widened the technology gap, "to lead the market before the development of the next generation LPDDR6."
2HKMG: A next-generation process that uses a material with a high dielectric constant (K) in the insulating film inside DRAM transistors to prevent leakage currents and to improve capacitance. It reduces power consumption while increasing speed. SK hynix had become the industry's first to integrate the process in mobile DRAM in Nov. 2022.
The IT industry forecasts an increasing demand for memory chips with advanced specifications as the 5G smartphone market expands further. In this trend, SK hynix expects the application of LPDDR5T to expand beyond smartphones to artificial intelligence (AI), machine learning and augmented/virtual reality (AR/VR).
"With the development of LPDDR5T, the company has fulfilled customers' demand for ultrahigh-performance products," said Sungsoo Ryu, Head of DRAM Product Planning at SK hynix. "We will continue to work on the technology development to lead the next-generation semiconductor market and become the game changer to the IT world.""