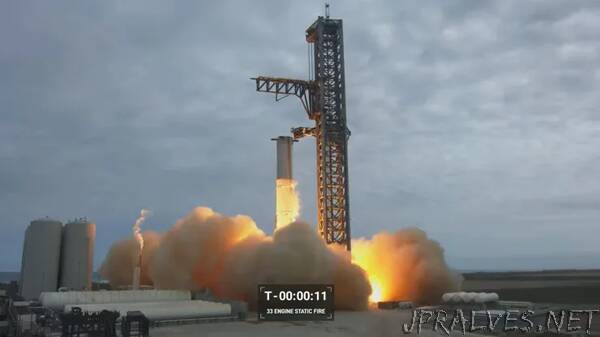 "SpaceX on Thursday test fired 31 of the 33 engines in the towering rocket booster of its Starship prototype, as the company prepares to launch the rocket to orbit for the first time.
Called a "static fire," the milestone test is the final major hurdle before SpaceX tries to launch the nearly 400-foot-tall rocket to space.
The company said in a tweet shortly after the test that the engines at the base of the Super Heavy booster fired for "full duration," meaning the expected length of the test.
CEO Elon Musk said in a subsequent tweet that SpaceX turned off one engine before the test and another engine "stopped itself."
"Still enough engines to reach orbit!" Musk said.
SpaceX has steadily been building up to the first flight test of its Starship rocket. President and COO Gwynne Shotwell on Wednesday stressed the first launch attempt would be experimental.
Starship is designed to carry cargo and people beyond Earth and is critical to the National Aeronautics and Space Administration's plan to return astronauts to the moon. SpaceX won a nearly $3 billion contract from the space agency in 2021.
While SpaceX had hoped to conduct the first orbital Starship launch as early as summer 2021, delays in progress and regulatory approval have pushed back that timeline. SpaceX needs a license from the Federal Aviation Administration in order to launch Starship.
Shotwell said Wednesday, "I think we'll be ready to fly right at the timeframe that we get the license."
The company will next analyze the result of Thursday's static fire test. Shotwell estimated that a successful static would see SpaceX ready to launch the first Starship orbital flight "within the next month or so.""