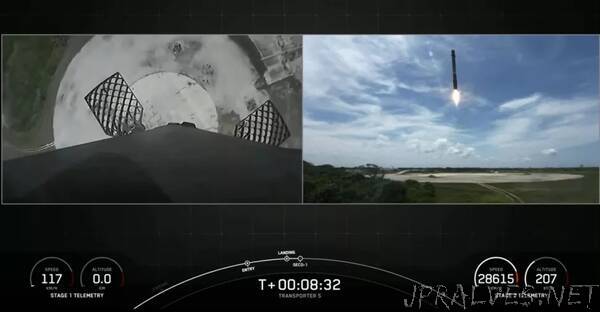 "SpaceX launched 59 small satellites and landed the returning rocket today (May 25) on a "rideshare" mission called Transporter 5.
A two-stage Falcon 9 rocket lifted off from Cape Canaveral Space Force Station in Florida today at 2:35 p.m. EDT (1835 GMT), on a mission called Transporter 5. The Falcon 9's first stage came back to Earth for a vertical touchdown at Cape Canaveral's Landing Zone 1 about 8.5 minutes after launch.
All 59 payloads were deployed into orbit by about 75 minutes after liftoff as planned, SpaceX representatives said.
Transporter 5 is a "rideshare" mission that's lofting a variety of small satellites for a number of different customers. One of those customers is Canada-based GHGSat, which operates a network of spacecraft that detect methane emissions from orbit. Three GHGSat spacecraft are going up on today's flight.
Also flying on the Falcon 9 today is Terran Orbital Corporation's CubeSat Proximity Operations Demonstration (CPOD).
"The technology demonstration mission will validate the technologies needed to support rendezvous, proximity operations, docking (RPOD), servicing, and formation flight by utilizing a pair of identical 3-unit (3U) cubesats — leveraging their inherently lower vehicle and launch costs," Terran Orbital representatives wrote in a statement(opens in new tab). (A 3U cubesat is about the size of a loaf of bread.)
As its name suggests, Transporter 5 is SpaceX's fifth dedicated small-satellite rideshare mission. The first, Transporter 1, launched 143 satellites to orbit in January 2021 — a record for the most payloads lofted on a single mission.
Transporter 5 was the 22nd Falcon 9 launch in 2022 and the 155th for the rocket overall. The mission also marked the eighth flight of this particular Falcon 9 first stage, according to a SpaceX description(opens in new tab). Among its previous missions were two crewed launches to the International Space Station as well as Transporter 4, which lifted off last month.
Such extensive reuse is a key priority for SpaceX, which views it as the key breakthrough that humanity will need to colonize Mars and perform other ambitious exploration feats. And the reuse is indeed extensive; several different Falcon 9 first stages have launched on 12 different missions."