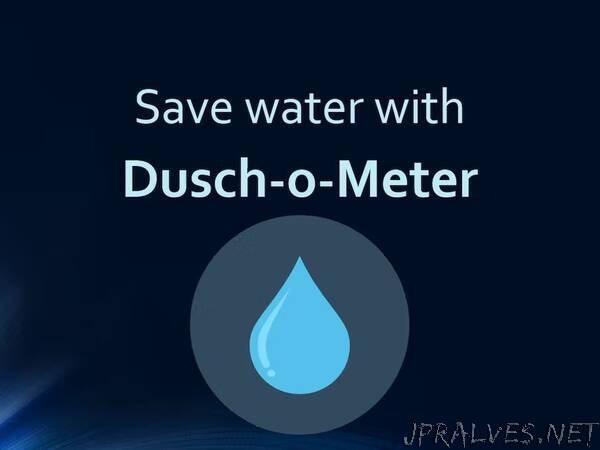 "Track your water consumption and save money with Dusch-o-meter, the smart device for eco-friendly showers.
Story
Intro
This project was developed as part of a course called "Internet of Things Ecosystems" at the University of Applied Science Esslingen. Through this project, students have the opportunity to build their own IoT application from the ground up and gain an understanding of the associated business aspects.
Motivation
High bills due to prolonged shower times can be frustrating, especially when finances are tight. Long warm showers worsen the situation, especially during the energy crisis. But that doesn't mean that the problem is caused by you. Maybe you have family members or roommates and one of them spends way too much time in the bathroom to shower. But don't blame them. People spend a lot of time in shower and at some point just lose the sense of time. However, with our product, you now have a solution for that problem.
Solution
Our Dusch-o-Meter IoT device and accompanying app aim to reduce water consumption and minimize shower time with features such as:
- Tracking of the water consumption during shower and upload of the data to the cloud
- Also tracking of the water temperature to consider the water consumption with warm water (not implemented yet)
- Sending of an alert to the IFTT-App if a specific water limit is reached during shower
- Statistics about the water consumption over different time ranges (days, weeks, months and years) in the Web-Dashboard and the Dusch-o-Meter app
- Integrated cost calculator for calculating the exact costs of the wasted water (not implemented yet)
How to use?
Before the first use, install the Dusch-o-meter water flow sensor between the shower tap's water outlet and the hose connected to the shower head. Then, connect the water flow sensor to the Particle Photon following the wiring scheme included in this article. After these steps, the Dusch-o-meter device is ready to use.
Before showering, ensure to press the play button in our app, as our backend needs to know who is showering in order to assign the water consumption to the appropriate person. If this step is not taken, the water consumption will still be monitored, however, it will not be linked to a specific person.
Upon completing your shower, simply press the pause button in the app and the water consumption value will be uploaded to the Dusch-o-meter cloud and credited to your account. Forgot to hit the pause-button? Not an issue, there is a timeout implemented which performs an automatic reset and upload of your water consumption after you stopped showering."