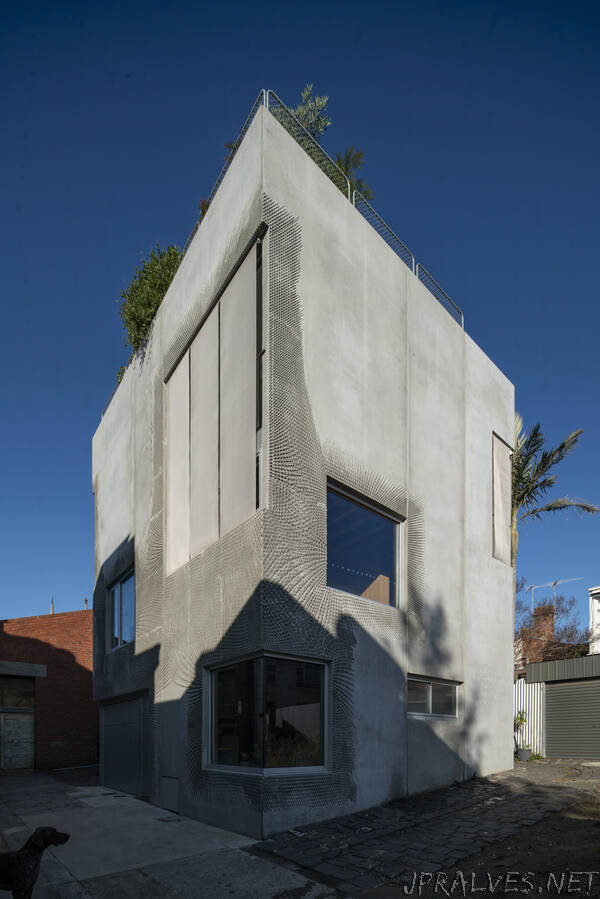 "The future of architecture is here, with RMIT experts and technology revolutionising how we treat everyday building materials. A concept so new, Australia's Grand Designs couldn't stay away when it was put to the test.
Through engaging RMIT's Tectonic Formations Lab, Senior Lecturer and architect Ben Milbourne demonstrated how emerging technologies can transform traditional building practices, using his own home as a proof-of-concept test for his practice-based research Phd in Architecture and Urban Design.
"I used the project as a model for rethinking how we treat building facades, in this case how surface articulation around windows and doors is increased to draw visual attention and deflect water away from openings."
"I was looking at some of the work my colleagues were exploring in computational design and fabrication techniques in construction, and how I would be able to use some of these techniques in different materials such as concrete."
Milbourne's work has meticulously explored the challenges and opportunities that arise out of the increasing adoption of digital fabrication within the design and construction industries in Australia.
"I used a computational design technique that simulates magnetic fields to produce a pattern that was able to deflect water away from the windows in a non-traditional way. So rather than carved stone or brick corbeling often seen in traditional buildings, we developed an articulated surface in pre-cast concrete that reinterprets the function of these traditional systems in a contemporary way."
Applying the pattern also took some breakthrough thinking. Using the expertise and cutting-edge technology of the lab, led by Dr Roland Snooks, Milbourne successfully created intricately detailed plywood molds to transfer the pattern onto pre-cast concrete walls.
"Using computer-controlled tools, also known as CNC, to mill the plywood allowed us to realise the detailed pattern in the molds and subsequently the concrete walls."
"The Tectonic Formations Lab at RMIT was one of the first of its kind in an Australian architecture school. While several other schools in Australia now have similar facilities, the depth of research and variety of approaches explored at RMIT remains nation leading and is recognized internationally."
"It was certainly experimental, and it took a lot of trial and error and time to get it right. A successful outcome in any research project is uncertain, however this project demonstrates that traditional approaches to building can be refashioned in new and interesting ways in a range of materials."
The project was closely followed by Grand Designs Australia. While the filming was exhausting, Milbourne says it's great to have a record of the building process and the application of RMIT's architectural design research.
RMIT is ranked #3 in Australia and #31 in the world for Architecture. Learn how you can use cutting edge technology to explore architecture and landscape and interior design at Architecture - RMIT University."