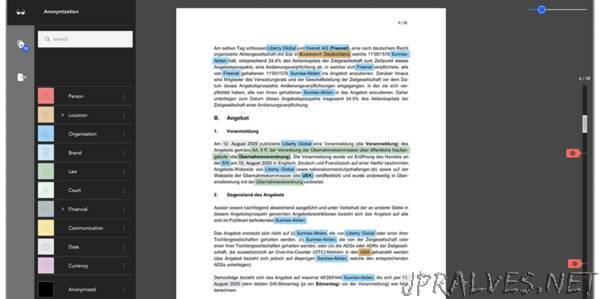 "ETH LegalTech spin-​off DeepJudge assists law firms, corporations, and courts by making data-​sensitive administrative work more efficient.
How many of us have struggled when needing to replace a word or combination of words in a text? Law firms or corporate legal departments are no strangers to this, as they have hundreds of documents on each case and spend a significant amount of time on administrative work. Given the nature of legal documents, this is a complex task as it must consider elements such as anonymisation. What if part of this could be automated?
This is where DeepJudge comes in. DeepJudge helps legal professionals automate a certain portion of their administrative and highly sensitive work, which saves valuable time.
The differentiation factor: context sensitivity
The technology combines Deep Learning and Natural Language Processing and adds publicly available information where applicable.
As Paulina Grnarova, DeepJudge CEO and Co-​founder points out, the differentiating factor in this technology lies in it being context-​sensitive – something conventional solutions are not. In legal documents, no sentence can be considered in isolation, so when analysing a document, the tools must pool information from many contexts.
Various applications for more efficiency
DeepJudge offers two main solutions: The first creates more comprehensive documents by automatically highlighting crucial information, which is then enriched with relevant external data such as legal codes, court rulings, commercial registries, encyclopaedias, etc. The second solution is context-​sensitive and is used to anonymise documents and communication by having AI recognise and highlight sensitive terms. Following revision by a lawyer/legal professional, the terms can be adjusted or directly blacked out (see pictures below). DeepJudge can also be applied to emails or on communication platforms such as Slack. The AI learns more with every document, user interaction, or email that is scanned.
Besides the automation and anonymisation, the technology includes prototypes for several additional applications such as document search functions, template generation, and document comparison.
Data security is a key part of the solution
Data protection and security is ensured, as the technology operates in a highly secure cloud system based in Switzerland. Alternatively, users can use the DeepJudge tools on their premises. The documents, emails, and information processed are never stored.
Successful paid pilots in Switzerland - ready for expansion
The technology is being tested in Switzerland, with Zurich-​based law firm Homburger AG as one of the early adaptors. For Homburger, it is a big advantage to draw on this wealth of knowledge when searching documents. Traditional tools are limited to a keyword-​based search. Hence, unless one can remember the exact words used in a document, finding the relevant information is very difficult. DeepJudge leverages its context-​aware AI to find related documents based on concepts and semantic meanings rather than by exact keywords in the form of an internal search.
After the successful launch in Switzerland in 2021, DeepJudge aims to conquer the DACH region and the rest of Europe in the next two years. DeepJudge aims to become an indispensable tool in legal environments, helping lawyers to make their administrative work more efficient so that they can focus more of their resources and energies on winning their cases.
To achieve its ambitious milestones, DeepJudge just closed its first financing round with prominent angel investors and is now looking for additional partners to pilot its technology before launching the product later this year."