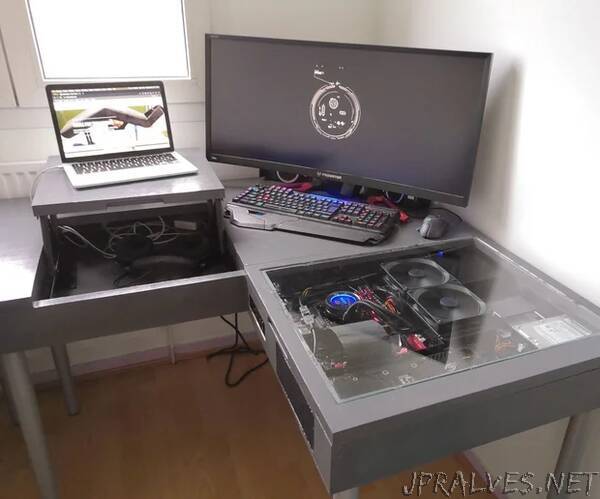 "The most elegant way to own a computer isn't necessary inside a case at the bottom of your desk. You can also build your own desktop-showcase to save space and let the world know about your passion (#pcmasterrace) !
To start this project, I first estimated global dimensions, and imagine how it will fit in my room. I wanted to build it in two parts in the case where, in my next appartement, both parts couldn't fit in the same room next to each other.
I will kept in the main part my computer components and a built-in laptop height stand. In the other part, I will build a large drawer to store things like games controllers, cables, computer spare parts,…
For the computer itself, I own a desktop computer composed of :
a motherboard (atx format)
a CPU
some RAM
a (way to massive) ventirad
GTX 970 graphic card
an SSD
3 HDD
some fans
a power supply unit
In order to fit all of that in the thickness of a desk, I had to replace some parts. About the motherboard and the CPU, their times had not come, they will be in the final assembly, so as the power supply. I could keep the graphic card but I not in this position. My ventirad was really too big to fit in the desk, I had two options : Find another one "low profile" or use a watercooled system. I choosed the second solution for personal conveniences. Fans will be too large to fit, I will let them in the original case and buy some 80mm fans. The thickness of the desk has been determined by the thickest component I couldn't remove : the power supply.
Supplies:
Finally, the computer parts I bought was :
a new cooling system (NZXT Kraken x62)
a PCIe riser to move my graphic card away
6 brand new 80mm fans (BeQuiet 2 Pure wings 2)
a rheobus to control all of those fans (NZXT Grid+ V3)
and last but not least, I had to leave my power switch on the original case so I bought a control panel
For the desk, I had nothing so I bought every parts :
2 pieces of beech kitchen worktop (2500mm long, 650mm wide, 26mm depth)
9 table feet from IKEA (they can be adjusted from 600mm to 900mm)
a kitchen drawer without face
those special hinges for the part with the glass
The glass itself
those special hinges for the laptop support
To fix the computer parts to the desk, I used L shaped, aluminium parts (20x20x2) and pop rivets
This mesh for the bottom of the desk
This mesh to set in the front of the fans"