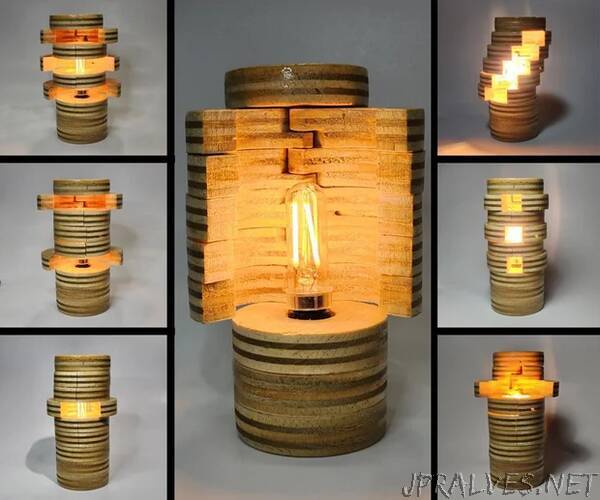 "I have been wanting to try and make this for quite some time but just never got around to it, mostly because I couldn't figure out an easy way to make the "hinge". I finally decided to just start the build and see what happens. I'm glad I did because I was able to problem solve my way through it once I was in the middle of it. And I am really pleased with how it turned out.
I wanted to make a lamp that I could control how much light was being given off. Sort of like an analog dimmable light of sorts. If I wanted a lot of light, I could open up the covers but if I only wanted a small amount light like a "night light" I could close the covers up completely. What I didn't count on is the variety of shapes the lamp could be transformed into. There are a ton of variations to opening and closing the covers which results in a sculptural look to the lamp depending on what you choose to do with it. Keep reading if you would like to see how I made it.
*If you make this make sure to only use an LED bulb to minimize heat. An incandescent bulb may be a fire hazard.
Supplies
- 3/4" Plywood
- 1/8 inch Brass Rod
- Candelabra Base with Wire Leads
- LED Edison Bulb with Candelabra Base
- Replacement Lamp Cord with Built in Switch
- Table Saw
- Cross Cut Sled
- Hand Drill
- Ruler
- Pencil
- 1/4 inch diameter steel dowel or wood dowel that is about an inch long
- Band Saw
- Band Saw Circle Cutting Jig
- Wood Lathe
- Pen Mandrel
- Lathe Tools
- Sandpaper from 120-600 grit
- Glue
- Clamps
- Bench
- Drill Press
- Portable Band Saw
- Forstner Bits 1-3/8-inch and 7/8-inch
- 1/8-inch drill bit
- 1/4-inch drill bit
- 3/8-inch drill bit
- Center Finder
- 1/2-inch Chisel
- File
- Hand Screw Clamp
- Hot Glue Gun
- Blue Tape
- Palm Sander
- 1x30 Belt Sander"