Espruino is a JavaScript Interpreter for Microcontrollers that is designed to make development quick and easy. The Espruino interpreter is firmware that runs on a variety of different microcontrollers, but we also make Espruino Boards that come with the interpreter pre-installed and are the easiest devices to get started with.
However Espruino itself isn't just the interpreter firmware or hardware - there's also the Web IDE, command-line tools, documentation, tutorials, and modules which form a complete solution for embedded software development.
Pico
The Pico is designed to plug right into you computer's USB type A connector, or a USB extension lead. The components (not the text) should usually be facing upwards (so the 4 gold strips are facing the plastic in the USB socket).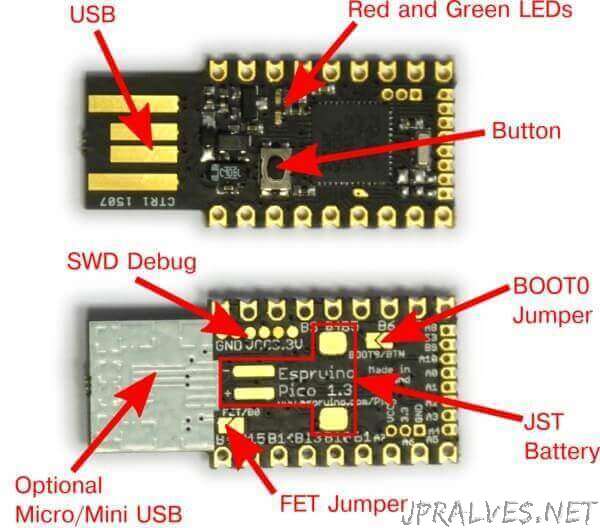 Specifications
33mm x 15mm (1.3 x 0.6 inch)
22

GPIO

pins : 9 Analog inputs, 21

PWM

, 2 Serial, 3

SPI

, 3

I2C

All

GPIO

is 5 volt tolerant (Arduino compatible)
2 rows of 9 0.1" pins, with a third 0.05" row of 8 pins on the end
On-board

USB

Type A connector
Two on-board LEDs and one button.

STM32F401CDU6

32-bit 84 MHz

ARM

Cortex M4

CPU

384kb flash, 96kb

RAM

On-board 3.3v 250mA voltage regulator, accepts voltages from 3.5v to 16v
Current draw in sleep: < 0.05mA - over 2.5 years on a 2500mAh battery
On-board

FET

can be used to drive high-current outputs
Rev 1v4: 500mA polyfuse on board
Rev 1v4:

CE

and RoHS certification
PinOut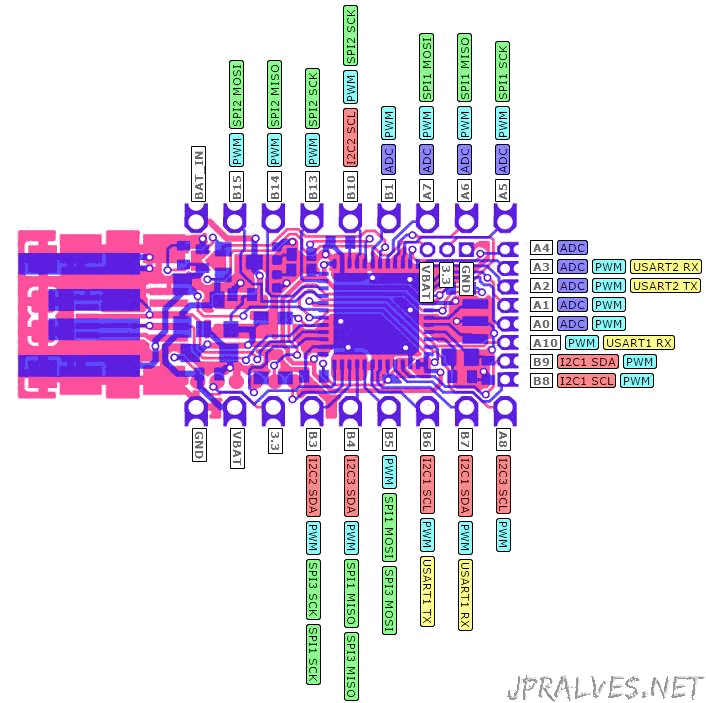 Purple boxes show pins that are used for other functionality on the board. You should avoid using these unless you know that the marked device is not used.
! boxes contain extra information about the pin. Hover your mouse over them to see it.
3.3v boxes mark pins that are not 5v tolerant (they only take inputs from 0 - 3.3v, not 0 - 5v).
3.3 is a 3.3v output from the on-board Voltage regulator.

GND

is ground (0v).

VBAT

is the battery voltage output (see the Espruino Board Reference).

ADC

is an Analog to Digital Converter (for reading analog voltages)

PWM

is for Pulse Width Modulation. This creates analog voltages from a digital output by sending a series of pulses.

SPI

is the 3 wire Serial Peripheral Interface.

USART

is a 2 wire peripheral for Serial Data.

I2C

is the 2 wire Inter-Integrated Circuit bus.
PINS NOT ON CONNECTORS
A9

USB

PWM

USART1

TX

A11

USB

PWM

USART6

TX

A12

USB

USART6

RX

A13

JTAG

A14

JTAG

A15

JTAG

PWM

B0

ADC

USB

PWM

B2

LED1

BOOT1

B12

LED2

C13

BTN1

C14

OSC

RTC

C15

OSC

RTC

H0

OSC