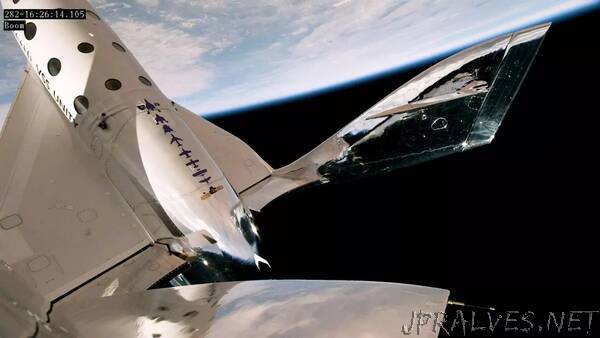 "Today's mission was Virgin Galactic's first trip to space in nearly two years.
Virgin Galactic aced its fifth test flight to suborbital space this morning (May 25), likely keeping the company on track to start commercial operations next month.
Today's mission, known as Unity 25, was Virgin Galactic's first trip to the final frontier since July 2021, when it sent up billionaire Virgin Group founder Richard Branson and several other passengers. But don't expect such a long gap between Unity 25 and the company's next spaceflight.
"We think if all this goes well, we'll be ready to fly our first commercial flight in June," Mike Moses, president of spaceline missions and safety at Virgin Galactic, told Space.com in a preflight call yesterday (May 24).
That coming landmark mission, he added, is a research flight booked by the Italian Air Force.
Success on spaceflight number 5
Virgin Galactic employs an air-launch system to take people and research payloads to suborbital space. That system currently consists of two operational vehicles: a two-pilot, six-passenger space plane named VSS Unity and a carrier aircraft known as VMS Eve.
Unity lifts off from a runway, carried aloft beneath Eve's wings. When Eve reaches an altitude of about 50,000 feet (15,000 meters), it drops Unity, which then fires up its onboard rocket motor to zoom up to suborbital space.
Passengers aboard Unity get to experience a few minutes of weightlessness and see Earth against the blackness of space before gliding back home for a runway landing.
Unity has now made this trip five times. ("Unity 25" refers to the total number of test flights the space plane has performed, which include captive-carry and glide flights in Earth's atmosphere.)
Today's mission began at 11:15 a.m. EDT (1515 GMT), when Eve lifted off from Spaceport America in New Mexico with Unity anchored to a pylon between the carrier craft's twin fuselages.
A total of eight people went up in the two vehicles, all of them Virgin Galactic employees. Jameel Janjua and Nicola Pecile flew VMS Eve, and Mike Masucci and C.J. Sturckow piloted VSS Unity. Riding in the space plane's cabin were Beth Moses, the company's chief astronaut instructor (and Mike Moses' wife), astronaut instructor Luke Mays, and mission specialists Christopher Huie and Jamila Gilbert. Unity 25 marked the third spaceflight for Beth Moses and the first for her three fellow crewmates.
After being released, Unity reached a maximum speed of Mach 2.94 (nearly three times the speed of sound) and a peak altitude of 54.2 miles (87.2 kilometers), Virgin Galactic representatives said in a statement issued shortly after the flight. (The company did not livestream today's flight.)
That's high enough to be considered a spaceflight, according to NASA and the U.S. Air Force, which award astronaut wings to anyone who gets above 50 miles (80 km). Some other authorities, however, regard outer space to begin at an altitude of 62 miles (100 km).
Unity came back to Earth at 12:37 p.m. EDT (1637 GMT), touching down on a runway at Spaceport America. Eve followed a few minutes later, officially bringing an end to the Unity 25 mission.
'Kicking the tires' on upgraded vehicles
After the July 2021 flight, Virgin Galactic grounded both Eve and Unity to maintain and upgrade the vehicles. Most of this work involved Eve and was designed to allow the carrier plane to support a relatively high flight cadence in the future, Mike Moses said. For example, Virgin Galactic replaced Eve's pylon after Branson's flight, which was called Unity 22.
"The old design was strong enough and it had enough capability," Moses said of the pylon. "But it didn't have a lot of extra capability."
Such changes made the Eve-Unity system stronger and more resilient going forward, he added.
That being said, the company was already quite confident in both vehicles, which had proven themselves on four previous spaceflights going into today's flight. Virgin Galactic didn't need to prove out a certain level of hardware performance during Unity 25, Moses said. Rather, he compared the mission to the soft opening of a restaurant — the final checkout before ramping up to full speed.
"This is our run right before the opening night, right, where we kind of kick the tires and check that everything's there," he said.
Virgin Galactic did want to vet its astronaut-training practices a bit, however, which explains why Huie and Gilbert made the trip today along with astronaut trainers Mays and Beth Moses.
Huie and Gilbert "are much more representative of what a customer would be, and so they're getting the customer-training profile, not really enhanced too much more than that," Mike Moses said.
"They'll be able to experience this as a flyer would for a commercial ticket," he added. "So that's kind of the main focus on the flight, this — I'd call it training validation and experience validation."
Ramping up the flight rate
Virgin Galactic aims to fly roughly once per month with Eve and Unity once commercial operations begin, Mike Moses said. But the company is aiming even higher than that over the long haul: It's building a fleet of new "Delta-class" space planes designed to be capable of flying once a week.
Once those new vehicles enter service, a milestone targeted for 2026, Virgin Galactic could be flying paying customers to suborbital space every day. (A ticket to ride with the company currently costs $450,000, and hundreds of people have booked a seat to date.)
"That's going to be a big sea change when that occurs," Mike Moses said. "I'm really looking forward to that from my commercial operations perspective. That's one of the reasons I joined this company, was to get to a place where space travel is a lot more routine for more folks."
Virgin Galactic has one main competitor in the suborbital space tourism business — Jeff Bezos' Blue Origin. Blue Origin's rocket-capsule combo, called New Shepard, has launched people on six space missions to date but hasn't flown since September 2022, when the vehicle suffered an anomaly during an uncrewed research mission."