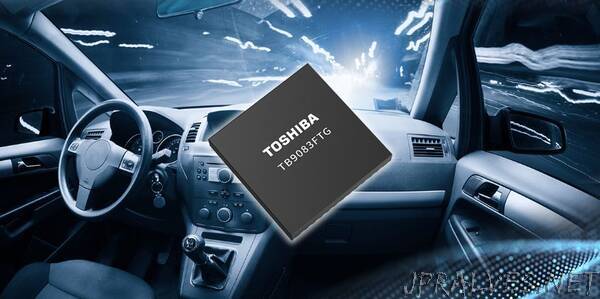 "Toshiba Electronic Devices & Storage Corporation ("Toshiba") has launched "TB9083FTG," a gate-driver IC[1] for automotive brushless DC motors used in applications such as electric power steering (EPS), electric brakes and shift-by-wire. Volume shipments start today.
Automotive equipment must deliver a performance that meets the requirements of ISO 26262, the functional safety standards for road vehicles. Semiconductor chips and electronic components installed in automotive equipment are no exception to this.
The new product TB9083FTG controls and drives external N-channel power MOSFETs for driving a three-phase brushless DC motor. It is highly capable against the ISO 26262 2nd edition functional safety[2] and supports ASIL-D[3] for use in highly safety-critical automotive systems. This makes the new product ideal for automotive applications using brushless DC motors, such as EPS, electric brakes and shift-by-wire.
For systems requiring safety relays such as EPS, TB9083FTG has a built-in three-channel gate-driver for the safety relays that control and drive the relays for motors and power supply. This eliminates the need for external components and helps reduce the part count.
TB9083FTG is housed in a P-VQFN48-0707-0.50-005 package with a wettable flank[4] structure. This allows visual inspection of solder joints using an automatic optical inspection (AOI) system, and contributes to improved solder joint reliability.
In addition, Toshiba has verified that it can go through 3000 cycles in the mounting temperature cycling test and has obtained data that will allow customers to use this QFN package with full confidence.
By using a small package (7.0mm × 7.0mm (typ.)), the mounting area has been reduced by approximately 66% against the current product [5]. This helps to control the increase in the mounting area, as the number of electronic components on ECU boards tends to rise due to redundant designs that are effective in ensuring higher levels of safety.
Toshiba will continue to steadily introduce improved functions that match the requirements of ISO 26262 2nd edition into gate-driver IC for automotive three-phase brushless DC motors, and to contribute to the electrification and safety enhancement of automotive equipment."