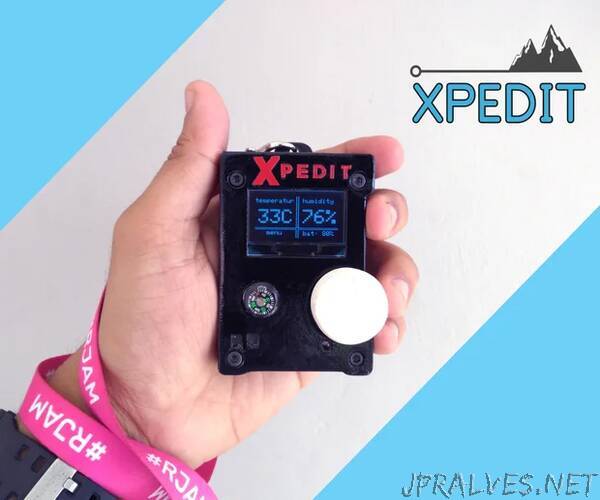 "When you are planning to do an adventure journey or trekking to the wild, it is essential to have a device in your backpack that helps you to understand the environment.
For my upcoming adventure trip, i planned to build a handheld device that helps me to monitors temperature, humidity, air pressure, and altitude as well as an alarm can be set for any of the parameters go beyond a user-defined threshold value. The device is powered with 1000maH lipo battery, with a backup of 72 Hours continues running!
I made this device smaller in size, smarter to use, looks cool in your hands and durable in outdoor. I keep the budget within $18!
Component and Parts :
1 x Atmega 328P (TQFP)
1 x TP4056
1 x 20mhz Resonator
1 x Rotary encoder
1 x BME280 Module
1.3" 128 x 64 OLED Display Module
1 x Buzzer -3V
6 x 10K 0805 Resistor
2 x 1K 0805 Resistor
1 x 1.2K 0805 Resistor
1 x 0.1mF 0805 Capacitor
2 x 1mF Capacitor
1 x 10mF Capacitor
1 x Micro USB Port
1 x 1000maH 3.7v Lipo Battery
1 x 2x3 Header Pins
4 x M3/6mm Threaded inserts
1 x 12mm compass meter
4 x M3 15mm Screws
Tools:
Soldering Iron
Multimeter
Allen key 3mm Screw Drivers
Tweezers
Files
Supplies:
Spray Paint (any color for your choice)
Spray paint clear coat
Sandpapers, Gloves, Mask, and Googles
Softwares:
Autodesk Eagle
Autodesk Fusion360
Arduino IDE
Machines:
3D Printer
Vinyl Cutter Machine (Not necessary, Just for cutting logo)"