Today we will present a very powerful tool and that is a reference in its area - blender. It is a 3D creation tool. It supports the whole chain of creating 3D elements from modeling, framing, animation, simulation, production, composition and motion control, video editing and game creation.
It is currently in version 2.75a that was released on July 8, 2015 and is available for Windows, MAC OSX, GNU / Linux and FreeBSD. Can be downloaded from this site.
Uses an OpenGL interface to provide a consistent experience.
It has a set of technical requirements that is directly related to the work that can be done with the tool. Although it works on a machine with 2 GB of memory with a 32-bit dual-core processor at 2Ghz, it is recommended to be used with a machine with at least 8 GB of memory and a 64-bit quad-core processor. The graphics card must be OpenGL compatible and have 1GB of RAM.
The Blender Foundation, which is a Dutch public organization, supports and facilitates blender.org projects. The development of the tool is done by hundreds of people around the world. These are artists, animators, scientists, VFX experts, ordinary users, etc. As it is an open-source tool the public is invited to make changes to the tool that give rise to new features, bug fixes, better usability, etc.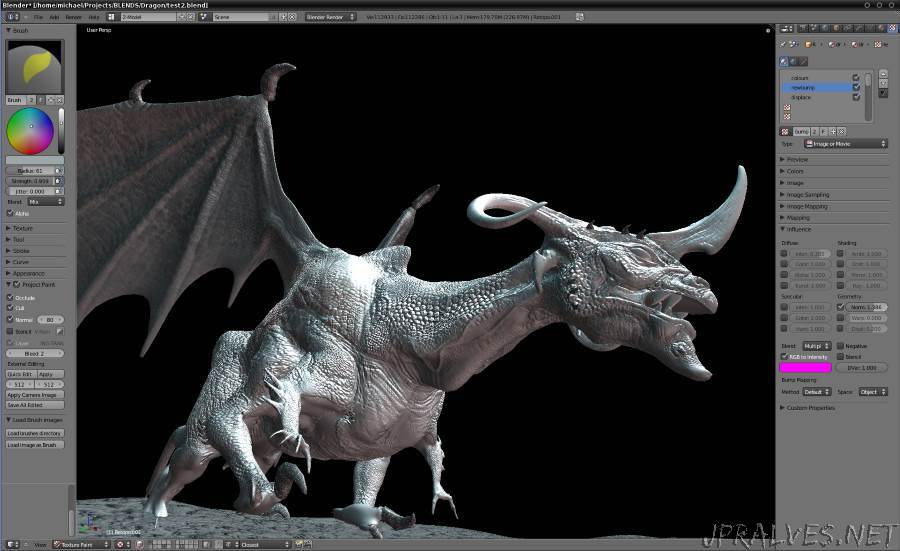 The main functionalities of the tool are:
Photo-realistic rendering
  -

GPU

and

CPU

Rendering
  - Real-time forecasting
  -

HDR

Light Support
  - Permissive license for use with external software
Quick Modeling
  - Using keyboard shortcuts for superior performance
  - Support N-Gon
  - Cutting, collecting and dissolving sides
  - Bridge and grate fill
  - Scripting in Python for custom tools and add-ons
Realistic Materials
  - Complete Node support for complete customization
  - Very realistic Shaders like glass, translucent surfaces and

SSS


  - Open Shading (

OSL

) language support for single Shaders encoding
Rigging Fast
  - automatic armor, skeleton and skin
  - Balanced paint
  - Mirror functionality
  - Bone layers and colored groups for organization
  - Interpolated Bones in Bezier Lines
Animation kit
  - Automatic walking paths
  - Character posture animations editor
  - Independent movements through

NLA

- Non-linear animation
  - Kinematics

IK

with front / reverse for quick poses
  - Sound Synchronization
Sculpture
  - 20 different types of brushs
  - Multi-resolution sculpting support
  - Dynamic topology of carving
  - mirror carving
Quick

UV

preparation
  - Quick projections on hub, cylinder, ball and chamber
  - Angled and shaped design (with apex and apex seams)
  - Direct painting on the mesh
  - Multiple layers of

UV


  - layout

UV

image export
Total Composer
  - Awesome library of us for creating camera effects, color gradation, vignettes and more
  - Render layer support
  - Total composition of image and video files
  - Ability to render multi-layer OpenEXR files
  - Multi-threaded
Awesome Simulations
  - Fluids - realistic simulation of water and other fluids
  - Smoke - Interaction in the scene of smoke and flames.
  - Hair - Hair that interacts with collisions
  - Clothing - Incredibly realistic surface simulations for clothing and environments
  - Hard body - Makes any object destructible and collidable
  - Particles - for creating elements such as rain, sparks or shards
Game Creation
  - Ability to carry templates to any game engine third-party
  - Create or encode your game logic
  - Complete physics integration of projectiles
  - Python

API

for advanced control and

AI


  - Support for all kinds of OpenGL dynamic light, toons shading, animated materials as well as the Normal and Parallax mapping
  - Playing games within the blender without compiling or pre-processing
  - 3D space audio using OpenAL
Camera and accompaniment of objects
  - Automatic and manual monitoring
  - Powerful Camera Reconstruction
  - Real-time preview of shooting and 3D scene
  - Support for Planar and tripod monitoring
Extensions Library
  - Generators of trees, terrain, clouds and forests.
  - Fractured objects
  - 3D printing
  - Rigify meta-rigging system
  - Support for the import / export format for AfterEffects, DirectX, Unreal Game Engine and more
Video edition
  - Live view, presentation of histograms, Chroma Vectorscope and luma waveform
  - Audio mixing, dubbing synchronization and wave viewing
  - Up to 32 slots to add video, images, audio, scenes, masks and effects
  - Speed ​​control, layer adjustment, transitions, keyframes, filters and more
File Formats
  - Images:

JPEG

,

JPEG2000

,

PNG

,

TARGA

, OpenEXR,

DPX

, Cineon, Radiance

HDR

,

SGI

Iris,

TIFF


  - Video:

AVI

,

MPEG

and Quicktime
  - 3D: 3D Studio (

3DS

),

COLLADA

(

DAE

), Filmbox (

FBX

), Autodesk (

DXF

), Wavefront (

OBJ

), DirectX (x), Lightwave (

LWO

), Motion Capture

BVH

, Stanford

PLY

,

STL

,

VRML

,

VRML97

,

X3D

Flexible interface
  - consistency across all platforms
  - Non-disruptive pop-up windows
  - Clear text (support for the

OSX

retina system)
Useful links: