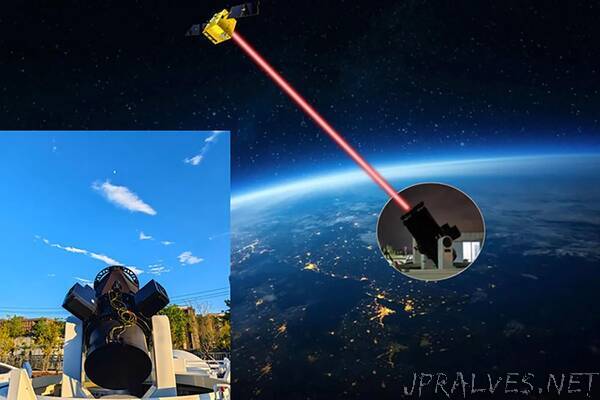 "Jilin-based Chang Guang Satellite Technology has tested a transportable ground station in its latest space-to-ground ultra-high-speed laser communications trial in what it deems an important step towards the technology's commercial application.
CGST, which operates the world's largest imaging satellite constellation Jilin-1, sent remote sensing images from one of its 108 Jilin-1 satellites in orbit to an optical telescope mounted on a vehicle at the speed of 10 gigabytes per second, the company's official WeChat account said on Wednesday.
The transportable station is compact, has a high bandwidth and can be deployed anywhere to avoid clouds, atmospheric turbulence or extreme weather, according to the company. It said the station could better support satellite-to-ground laser communications.
"The data rate in this test reached 10 gigabytes per second, which is more than 10 times higher than that of the radio-frequency links traditionally used for satellite communication," said Wang Xingxing, technical director of CGST's laser communications ground station unit.
"In the future, Chang Guang Satellite plans to expand the bandwidth to 40-100Gbps, and use such ground stations at various locations across the country to substantially boost its image-acquisition efficiency," he said.
However, the company did not give any details about the configuration of the ground station, including the telescope's aperture or pointing accuracy, or what kind of vehicle was used to transport the station.
In June, CGST conducted a similar test in collaboration with the Aerospace Information Research Institute of the Chinese Academy of Sciences (CAS). It was the first of its kind for commercial application in China, according to the company.
Established in 2014 as an offshoot of the Changchun Institute of Optics, Fine Mechanics and Physics under the CAS, CGST has been focusing on manufacturing and operating four generations of Jilin-1 remote sensing satellites, which mainly deliver panchromatic images with a resolution between 0.5 metres and 0.75 metres.
As the resolution kept improving and the number of satellites in orbit kept going up, the amount of data generated by the Jilin-1 constellation increased rapidly, posing a major technical challenge for the company.
While both radio and optical communications use electromagnetic waves to transmit data, laser light packs the data into much tighter waves and allows ground stations to receive more data at once.
"For the amount of data which takes radio waves 10 minutes to transmit, laser waves can collect it in just about 15 seconds," Xu Lu, deputy general manager of Beijing Rongwei Technology, a company that developed the in-orbit laser terminal for CGST, told Chinese media in June.
The Jilin-1 MF02A04 satellite was used in the June and October tests. It was launched into orbit from the Taiyuan satellite launch centre in December.
CGST said it planned to expand the Jilin-1 constellation to 300 satellites in low-Earth orbit by 2025.
Worldwide, national space agencies and the US military have been developing laser communications systems, including the Terabyte Infrared Delivery System co-developed by Nasa and the Massachusetts Institute of Technology, which showed a data transmission rate of 200Gbps earlier this year."