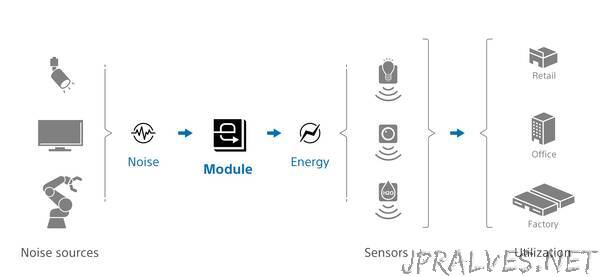 "Sony Semiconductor Solutions Corporation (SSS) today announced that it has developed an energy harvesting*1 module that uses electromagnetic wave noise energy.
The new module applies technology that SSS has cultivated in the tuner development process to generate power from electromagnetic wave noise with a high level of efficiency. For example, this technology can use the constant electromagnetic wave noise generated by robots inside factories, monitors and lighting in offices, monitors and TVs in stores and homes, and the like to provide the stable power supply needed to run low-power consumption IoT sensors and communications equipment.
With attention on the challenge of providing power to the increasing number of IoT devices as they grow in popularity and sophistication, this highly efficient energy harvesting technology shows promise for a wide range of applications. SSS aims to employ the new technology as part of its effort to build a power circulation model, thereby contributing to the development of a sustainable IoT society.
Energy harvesting is a technology that is expected to contribute to both the development of IoT and the sustainability of the global environment, with research being carried out mainly in fields such as electrical waves, light, heat, and vibration. SSS's new technology is the energy harvesting technology to generate power utilizing the electromagnetic wave noise that all electrical equipment generates.
Based on antenna technology created during tuner development at SSS, this new module uses the metal parts of electronic devices that serve as the source of electromagnetic wave noise as part of an antenna and employs a rectifier circuit2 with enhanced electricity conversion efficiency, for a highly original structure. This allows it to convert electromagnetic wave noise in a range of several Hz to 100 MHz into electrical energy and supply power to low-power consumption IoT sensors and communications equipment, or to charge batteries, despite its compact size. This is the industry's first3 energy harvesting technology based on this method that achieves highly efficient power generation. By efficiently utilizing previously ignored electromagnetic wave noise as a new power source, it enables a stable power supply for equipment.
The minimal number of constituent components used in the module yields a compact design that allows for greater freedom of installation. Also, as long as electronic devices are powered, energy can be harvested even while they are not in active use, making this technology promising in a wide variety of usage situations such as factories, offices, stores, and homes, both indoors and outdoors."