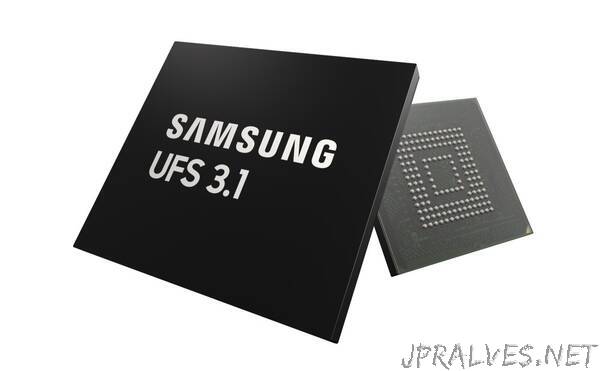 "Samsung Electronics, a world leader in advanced semiconductor technology, today announced that it has initiated mass production of its new automotive Universal Flash Storage (UFS) 3.1 memory solution optimized for in-vehicle infotainment (IVI) systems. The new solution offers the industry's lowest energy consumption, enabling car manufacturers to provide the best mobility experience for consumers.
The UFS 3.1 lineup will come in 128, 256 and 512-gigabyte (GB) variants to meet different needs of customers. The enhanced lineup allows more efficient battery life management to future automotive applications such as electric or autonomous vehicles. The 256GB model, for instance, has reduced its energy consumption by about 33% compared to the previous generation product. The 256GB model also provides a sequential write speed of 700-megabytes-per-second (MB/s) and a sequential read speed of 2,000MB/s.
"Samsung's new UFS 3.1 solution addresses a wide range of customer needs for optimized IVI systems while pushing forward with next-generation memory trends that require higher ESG standards," said Hyunduk Cho, Vice President of Memory Product Planning Team at Samsung Electronics. "We aim to expand our presence in the automotive semiconductor market, following the introduction of our UFS 3.1 solution for advanced driver assistance systems (ADAS)."
The new automotive UFS 3.1 solution satisfies the requirements of AEC-Q100 Grade2, a semiconductor quality standard for vehicles which guarantees stable performance in a wide range of temperatures from negative 40°C to 105°C.
Samsung plans to supply its UFS 3.1 products to global automakers and parts manufacturers by the end of this year.
As Samsung continues to strengthen its automotive memory solution portfolio, the company received an ASPICE Level 2 certification from customers in April, 2023, with its ADAS-oriented UFS 3.1 product. It obtained ASPICE Level 2 certification from C&BIS, a renowned automobile certification agency, with the UFS 3.1 product for ADAS supplied to customers and received verification for the high stability required in automotive semiconductors this month.
Since Samsung first started its automotive memory business in 2015, it has continued to grow rapidly. In 2017, the company introduced the industry's first UFS for vehicles and has since been providing various memory solutions such as AutoSSD, Auto LPDDR5X and Auto GDDR6. As data storage and computational demands on the automotive sector continue to grow, the company aims to deliver optimized memory solutions for automotive customers and reinforce its development and quality enhancement efforts to accelerate its market leadership."