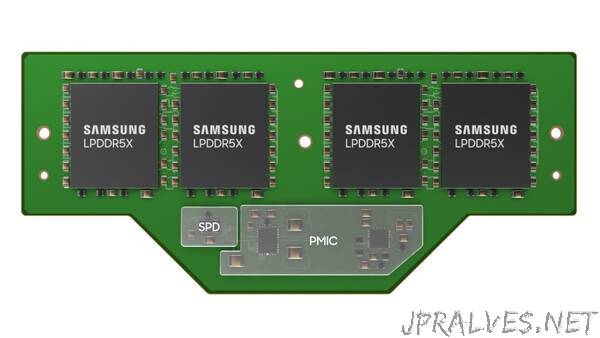 "LPDDR-based LPCAMM will lead next-gen module market for PCs and laptops, possibly extending to data centers
Improvements in performance by 50%, power efficiency by 70% and mounting area by 60% compared to So-DIMMs, with commercialization slated for 2024
Samsung Electronics, a world leader in advanced memory technology, today announced that it has developed the industry's first Low Power Compression Attached Memory Module (LPCAMM) form factor, which is expected to transform the DRAM1 market for PCs and laptops — and potentially even data centers. Samsung's groundbreaking development for its 7.5 gigabits-per-second (Gbps) LPCAMM has completed system verification through Intel's platform.
Historically, PCs and laptops have conventionally used LPDDR DRAM or DDR-based So-DIMMs.2 While LPDDR is compact, it's permanently attached to the motherboard, making it challenging to replace during repairs or upgrades. On the other hand, So-DIMMs can be attached or detached easily but have limitations with performance and other physical features.
LPCAMM overcomes the shortcomings of both LPDDR and So-DIMMs, addressing the increased demand for more efficient yet compact devices. Being a detachable module, LPCAMM offers enhanced flexibility for PC and laptop manufacturers during the production process. Compared to So-DIMM, LPCAMM occupies up to 60% less space on the motherboard. This allows more efficient use of devices' internal space while also improving performance by up to 50% and power efficiency by up to 70%.
LPDDR's power-saving features have made it an attractive option for servers, since it could potentially improve total cost of operation (TCO) efficiency. However, using LPDDR can create operational difficulties such as the need to replace the entire motherboard when upgrading a server's DRAM specifications. LPCAMM offers a solution to these challenges, creating significant potential for it to become the solution of choice for future data centers and servers.
"The energy efficiency and repairability advantages of LPCAMM make this new form factor a game changer in today's PC market," said Dr. Dimitrios Ziakas, Vice President of Memory & IO Technology at Intel. "We're excited to be a part of the new standard enabling the client PC ecosystem and pave the path for future adoption and innovation in broader market segments."
"With the growing demand in innovative memory solutions encompassing high performance, low power consumption and manufacturing flexibility across various fields, LPCAMM is expected to gain wide adoption in PCs, laptops and data centers," said Yongcheol Bae, Executive Vice President of Memory Product Planning Team at Samsung Electronics. "Samsung is committed to actively pursuing opportunities to expand the LPCAMM solution market and collaborating closely with the industry to explore new applications for its use."
LPCAMM is set to be tested using next-generation systems with major customers this year, and commercialization is planned for 2024."