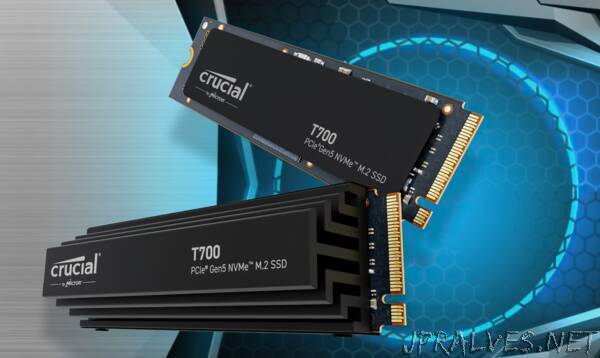 "The Crucial® T700 Gen5 SSD leverages Micron® 232-layer NAND to maximize performance and dependability, while Crucial Pro DRAM harnesses Intel® XMP and AMD EXPO® support and heat spreaders for great performance right out of the box
Micron Technology, Inc. (Nasdaq: MU), today announced the Crucial® Pro Series which features memory and storage products designed for gamers, content creators, workstation professionals or anyone needing the benefits of a robust, high-performance computing experience with plug-and-play functionality. The Crucial T700 PCIe® Gen5 SSD, the marquee product in the new Pro Series category, offers industry-leading sequential read/write speeds up to 12,400MB/s and 11,800MB/s respectively.1 Random read/write speeds1 of up to 1,500K IOPS enable faster gaming, video editing, 3D rendering or heavy workload applications. Another addition to the Crucial Pro Series is the Crucial DDR5 Pro and DDR4 Pro DRAM offerings with heat spreaders, providing out-of-the-box performance to improve system speed, bandwidth and responsiveness without the hassle of LEDs and the risks associated with overclocking and latency tuning.
"Today's demanding applications and user workloads require increased performance, along with greater storage capacity and memory bandwidth, to fully leverage the capabilities provided by the latest generation of CPU platforms," said Jonathan Weech, senior director of product marketing for Micron's Commercial Products Group. "The world class Crucial T700 Gen5 SSD provides unrivaled performance to tackle gaming, UHD/8k+ photo and video editing, heavy workload applications and large data sets. Crucial DDR5 Pro DRAM offers speeds up to 5600MT/s with sleek new heat spreaders that deliver enormous bandwidth under the heaviest of workloads to ensure consistent, maximum performance for gamers and creatives alike."
The Future of Fast: Crucial T700 Gen5 SSD
Built with Micron 232-layer TLC NAND and nearly two times faster than the previous Gen4 performance SSD2 with sequential read speeds up to 12,400MB/s, the Crucial T700 Gen5 SSD is designed for Intel® 13th Gen and AMD Ryzen™ 7000 series CPUs and PCIe 5.0 desktops and motherboards. The Crucial T700 SSD takes full advantage of Microsoft® DirectStorage and GPU decompression functionality to render high-resolution textures up to 60% faster, load assets in seconds and achieve up to 90% less CPU utilization to free up the system for multitasking purposes.3 Moreover, the Crucial T700 SSD also features a premium aluminum and nickel-plated copper heatsink to maximize heat dissipation and minimize thermal performance throttling4 without the noise or failure risks of integrated fans or liquid cooling. A non-heatsink version of the T700 SSD is also available for use with an integrated motherboard heatsink,5 and both types are backward compatible with PCIe 3.0 and 4.0 motherboards for ultimate flexibility.
No Fuss. Just Fast. Crucial DDR5 and DDR4 Pro DRAM.
Crucial DDR5 Pro memory has the blazing speed and massive bandwidth needed to support next-gen multi-core CPUs6 and unleash performance previously only attainable with extreme performance memory7. This innovative technology empowers PCs to multitask better; load, analyze, edit and render faster; game with higher frame rates; uncover data insights more quickly; and enhance productivity to save time and money. Available at a speed of 5,600MT/s, this new memory enables up to 1.75 times the data rates8 and two times the bandwidth9 of DDR4 memory.
Crucial Pro DRAM supports Intel XMP 2.0 or 3.0 and AMD EXPO™10 on every module to recover performance if the CPU challenges memory speeds in two or four DIMM configurations. Crucial is the only memory brand to offer Intel XMP and AMD EXPO on the same memory module to maximize performance across platforms,10 providing users with flexibility to integrate Crucial DDR5 Pro DRAM in either an Intel or AMD PC build. The streamlined product SKUs also reduce inventory management complexities for channel partners and distributors. Crucial DDR5 Pro memory has universal compatibility11 with 12th Gen Intel Core™ and AMD Ryzen 7000 Series desktop CPUs and above, while Crucial DDR4 Pro DRAM has universal compatibility11 with 8th to 13th Gen Intel Core and AMD Ryzen 1000 to 5000 Series desktop CPUs. Both Crucial DDR5 and DDR4 Pro memory have black aluminum heat spreaders that offer sleek style in a low-profile module for even the smallest form factor PCs, while also providing heat dissipation.
Availability
The Crucial T700 SSD is available now in 1TB, 2TB and 4TB capacities in both heatsink and non-heatsink M.2 2280 form factor options. Crucial DDR5 Pro memory is also now available in 16GB 5,600MT/s UDIMM modules, while the DDR4 Pro memory is offered in 16GB and 32GB 3,200MT/s UDIMM modules worldwide from leading retail and e-tail stores, commercial resellers and system integrators. For more information on Crucial Pro Series storage and memory options, visit crucial.com.
Micron's Crucial brand is uniquely able to connect millions of customers to the innovation and technology that Micron has been perfecting for more than four decades. Online tools like the Crucial Selector Tool have made it easy for content professionals, gamers, PC enthusiasts and DIY system builders to find compatible memory (DRAM) and storage (SSD) products for more than 175,000 desktops, laptops and workstations."