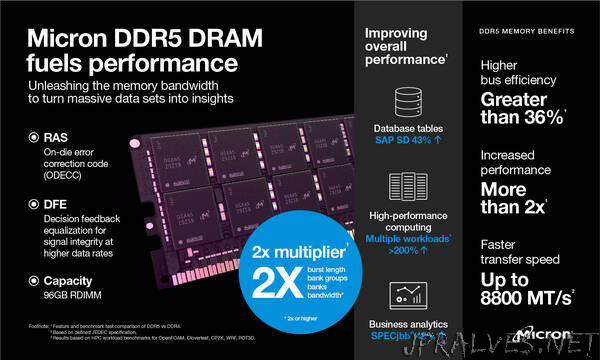 "Micron DDR5 improves workloads across the data center today while enabling future infrastructure growth
Micron Technology, Inc. (Nasdaq: MU), today announced that its DDR5 server memory portfolio for the data center is now fully validated on the 4th Gen Intel Xeon Scalable processor family. Micron DDR5 memory delivers up to twice the memory bandwidth over previous generations, which is essential to fueling the rapid growth of cores in today's data center processors. Transitioning to DDR5 will help alleviate a potential bottleneck for years to come by providing higher bandwidth to unlock more computer power per processor. Micron DDR5, in combination with 4th Gen Intel Xeon Scalable processors, benefits a wide range of workloads including SPECjbb, which delivers up to 49% performance improvement on benchmarking for Critical-jOPS (Java operations per second) compared to previous generations.1 In addition to increased memory bandwidth and performance, Micron DDR5 memory is also designed to improve reliability across the data center with features such as on-die Error Correction Code (ODECC) and bounded faults. On-die ECC corrects single-bit errors and detects multi-bit errors.
"The deep collaboration we have established with Intel as a highly valued ecosystem partner, has allowed Micron to remain at the forefront of the industry transition to DDR5," said Raj Hazra, senior vice president and general manager of Micron's Compute and Networking Business Unit. "This work has been pivotal in developing solutions that meet the complex needs and challenges of our data center customers as they convert massive amounts of data into insights."
"The 4th Gen Intel® Xeon® Scalable processor (codenamed Sapphire Rapids) represents a big generational leap in performance across a vast array of workloads, from fast-growing artificial intelligence, analytics and networking to storage and mission-critical workloads," said Dr. Dimitrios Ziakas, vice president of Intel's Memory and IO Technologies. "The 4th Gen Intel Xeon Scalable processors support a wide breadth of memory solutions across the industry. Micron's fully validated DDR5 server memory forms a key part of Intel's comprehensive validation matrix which provides data center customers reliability, performance scalability and increased infrastructure flexibility and configurability."
Working closely with Lenovo, Micron DDR5 and 4th Gen Intel Xeon 8480H Platinum processors deliver 43% more transactions for SAP workloads2 compared with Micron DDR4 and 3rd Gen Intel Xeon 8380 Platinum processors.
"With the growth of predictive analytics, customers across every major industry are demanding memory solutions that maximize effective bandwidth and enable complex workloads from edge to cloud. Our collective efforts with Micron throughout the development and validation phase, with these performance-intensive workloads in mind, allow us to deliver ThinkSystem V3 servers with a new era in memory performance accelerated by DDR5," said Kamran Amini, Vice President and General Manager of Server & Storage, Lenovo Infrastructure Solutions Group.
Micron has played a pivotal role in JEDEC's creation of a DDR5 memory specification. The Micron Technology Enablement Program (TEP), the first of its kind in the industry, gave system designers early access to the key internal resources and samples to assist their DDR5 validation process, and it remains available to aid in customer qualifications. Micron is committed to partnering across the ecosystem and will continue to invest in its leadership technology and product roadmaps."