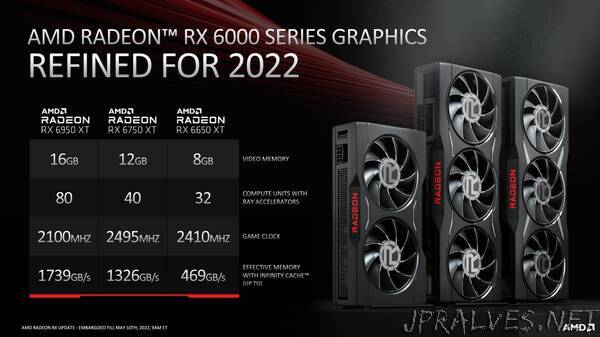 "AMD (NASDAQ: AMD) today announced new additions to the AMD Radeon™ RX 6000 Series product line: the AMD Radeon RX 6950 XT — the most powerful graphics card in the Radeon RX 6000 Series family — the Radeon RX 6750 XT and the Radeon RX 6650 XT graphics cards.
With a 2.1GHz Game Clock1 coupled with 16GB of high-speed GDDR6 memory, the AMD Radeon RX 6950 XT graphics card delivers incredible performance and breathtaking visuals for the most demanding AAA and esports titles at 4K resolution with max settings. The AMD Radeon RX 6750 XT graphics card offers a cutting-edge, high-performance gaming experience at 1440p resolution with max settings, while the AMD Radeon RX 6650 XT graphics card offers ultra-smooth, high-refresh rate 1080p gaming with max settings in the latest titles.
All of the new AMD Radeon graphics cards are built on the breakthrough AMD RDNA 2 gaming architecture, include process optimizations plus firmware and software enhancements, and are equipped with high-bandwidth, low-latency AMD Infinity Cache™ technology and ultra-fast GDDR6 memory at up to 18Gbps. They also support Microsoft Windows 11 and Microsoft DirectX® 12 Ultimate, AMD FidelityFX™ Super Resolution (FSR) 1.0, the forthcoming AMD FSR 2.02 and AMD Radeon Super Resolution upscaling technologies, as well as other advanced features that provide visually stunning, high-refresh rate gaming experiences.
"There are three billion gamers worldwide and counting, and about half play on PCs3," said Scott Herkelman, senior vice president and general manager, Graphics Business Unit at AMD. "As gamers grow in numbers, these new Radeon graphics cards will provide next-level gaming experiences and performance. And the incredible efficiencies of AMD RDNA 2 architecture deliver substantially better performance-per-dollar with the new Radeon graphics cards compared to the competition4."
High Performance, High Visual Fidelity & Elevated Gaming Experiences
The new AMD Radeon RX 6950 XT, Radeon RX 6750 XT and Radeon RX 6650 XT graphics cards provide gamers with incredible gaming performance, stunning visuals and elevated experiences. Key features and capabilities include:
- AMD Software: Adrenalin Edition™ – Brings advanced and innovative capabilities to unlock the full potential of gaming experiences on AMD graphics- and processor-powered systems. The latest release offers up to 10 percent higher performance across a range of select DX®11 titles5. In addition, AMD Radeon Super Resolution 1.1 driver-based upscaling technology now adds support for select AMD Ryzen™ 6000 Series processors equipped with Radeon integrated graphics.
- AMD FidelityFX Technology – AMD FidelityFX technology is an open-source toolkit of visual enhancement effects for game developers available at AMD GPUOpen. It includes AMD FidelityFX Super Resolution (FSR) 1.0 spatial upscaling technology, which is supported in 80+ games and counting. It also includes the forthcoming AMD FSR 2.0, a cutting-edge temporal upscaling solution that boosts framerates in supported games and generates similar or better than native image quality on a wide range of graphics cards.
- AMD Smart Access Memory (SAM) Technology – Unlocks higher performance when pairing AMD Radeon RX 6000 Series graphics cards with select AMD Ryzen desktop processors and AMD 500 Series motherboards by providing AMD Ryzen processors with access to the entire high-speed GDDR6 graphics memory. SAM can provide up to 14 percent higher performance in a system equipped with an AMD Radeon RX 6950 XT graphics card and an AMD Ryzen 7 5800X3D processor6.
- AMD Infinity Cache Technology – Last-level data cache integrated on the GPU die is designed to reduce latency and power consumption and can help enable higher gaming performance than traditional architectural designs. "