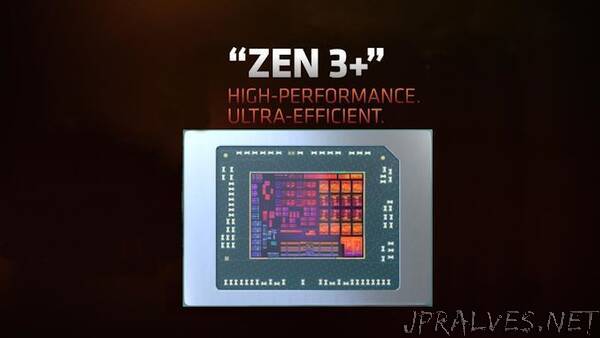 "Today, during the 2022 Product Premiere livestream event,  AMD (NASDAQ: AMD) announced the full lineup of new AMD Ryzen™ 6000 Series processors for laptops, bringing the new, highly-efficient and extremely powerful, "Zen 3+" core architecture together with all-new AMD RDNA™ 2 architecture-based on-chip graphics. The new AMD Ryzen 6000 Series processors are built using TSMC's 6nm process technology and deliver unprecedented levels of built-in graphics performance, offering revolutionary 1080p AAA gaming, along with cutting-edge features and superb battery life. AMD also announced the new Ryzen™ 7 5800X3D desktop processor with AMD 3D V-Cache™ technology for elite-level gaming performance that dominates the competition1, and previewed the new Ryzen™ 7000 Series CPU powered by "Zen 4" architecture and using the new AMD Socket AM5.
"AMD is at the forefront of innovation in the PC industry, delivering unmatched experiences for creators, professionals and gamers," said Saeid Moshkelani, senior vice president and general manager, Client business unit, AMD. "The new AMD Ryzen 6000 Series processors bring remarkable efficiency for impressive battery life, unbeatable built-in graphics and optimized performance to deliver the best AMD has to offer to every type of notebook user."
AMD Ryzen 6000 Series Processors
It all starts with "Zen" architecture, and AMD Ryzen 6000 Series processors are built on the updated AMD "Zen 3+" core, optimized to deliver amazing performance-per-watt. These are the fastest AMD Ryzen processors yet, with up-to 5 GHz clock speeds2, up to 1.3 times faster processing speeds, and up to 2.1 times faster graphics then the 5000 Series.3
The "Zen 3+" core delivers power and efficiency, through new adaptive power management features that adjust speed quickly, and new deep sleep states that help save on power. Compared to last-generation AMD Ryzen processors, the AMD Ryzen 6000 Series processors can use up to 30% less power for video conferencing.4 This results in incredible battery life with Ryzen 6000 Series processors achieving up to 24 hours of movie playback on a single charge5, all in a cool, quiet laptop.
Featuring up to eight high-performance cores, each one capable of handling multiple tasks at the same time to deliver 16 threads of processing power, AMD Ryzen 6000 Series processors bring ultimate performance to ultrathin laptop PCs, with up to 11% more single-threaded performance and up to 28% faster multithreaded performance over the previous generation.6
AMD RDNA 2 Architecture-Based Graphics
AMD Ryzen 6000 Series processors are also the first mobile processors to feature RDNA™ 2 architecture-based built-in graphics. With a graphics performance up to twice as fast as the last gen, it's the world's first on-chip graphics that can smoothly play the vast majority of PC games in full HD.7 Ryzen 6000 Series processors have an all-new integrated display engine, allowing for ultra-high resolutions and refresh rates. AMD Ryzen 6000 Series enables up to 70% faster AAA gaming compared to the competition.8 Dynamic HDR displays are supported, and AMD FreeSync™ technology keeps things smooth.
New Platform; New Features
To complement the power, efficiency, and amazing graphics, the AMD Ryzen 6000 Series processors are built on an all-new platform and offer the most innovative technologies and features available.
- Advanced DDR5 memory for faster mobile computing.
- Upgraded peripherals support with PCIe® 4.0 and USB4®.9
- AI noise cancellation to filter background noise.10
- Powerful Wi-Fi™ 6E solutions from relationships with Qualcomm and MediaTek.
AMD Ryzen 6000 Series processors are the first x86 processors to fully support advanced Windows 11 security features with the integrated Microsoft Pluton security processor11, offering a secure system, enabling true chip-to-cloud security. Combined with other leading security features from AMD, such as AMD Secure Processor and AMD Memory Guard, this makes AMD Ryzen 6000 Series processors the world's most innovative x86 processor. "