CY8CKIT

-049-42xx PSoC® 4200 Prototyping Kit


Cypress PSoC® 4 CY8CKIT-049 Prototyping Kits are low-cost prototyping platforms for testing and developing applications using the PSoC 4 device family. CY8CKIT-049 boards have been developed to support the ARM 32-bit Cortex-M0™ CY8C41xx and CY8C42xx device families. The prototyping kits support PC connectivity through an onboard USB-Serial controller (CY7C65211). The devices can be programmed using the USB-Serial controller and the Bootloader Software Host tool. These Cypress prototyping kits also support CapSense button control and USB-IF Battery Charging applications.
PinOut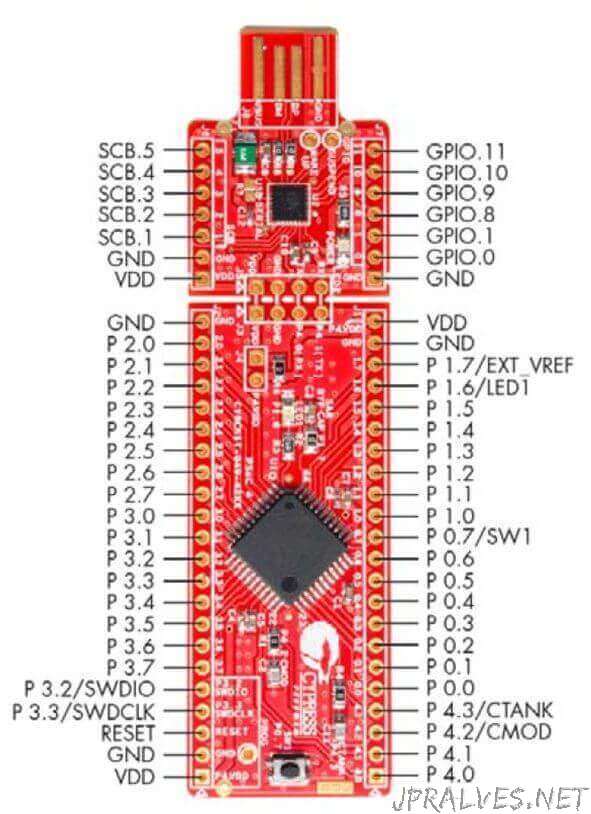 CY8CKIT

-059 PSoC®

5LP

Prototyping Kit

The CY8CKIT-059 PSoC 5LP Prototyping Kit features the CY8C5888LTI-LP097 device from the PSoC 5LP family. PSoC 5LP is the industry's most integrated programmable SoC, combining high-precision and programmable analog and digital peripherals with an ARM® Cortex®-M3 CPU in a single chip. Process sensor signals with the 24-bit hardware DFB coprocessor, offload traditional CPU tasks to the CPLD-based Universal Digital Blocks and increase system performance with the peripheral-to-peripheral DMA controller. Integrate high-precision custom 20-bit Analog Front Ends with the Programmable Analog Blocks including op amps, PGAs, filters, comparators, SAR and Delta-Sigma ADCs and the industry's best CapSense touch-sensing solution.



Specifications
32-bit

ARM

Cortex-M3

CPU

 core
Boost startup from 0.5V, Single-cell battery operation
300nA low leakage Hibernate low power mode
3x ADCs (12-bit 1Msps

SAR

ADC

, 20-bit DelSig

ADC

)
4x 8-bit DACs and Programmable analog array blocks
Versatile I/O system
Digital peripherals
Analog peripherals (1.71V ≤

VDDA

≤ 5.50V)
Programming, debug, and trace
Precision, programmable clocking
PinOut