Hoje vou falar-vos do Espruino Pico. O Espruino Pico é a evolução do Espruino num formato USB. A campanha Kickstarter terminou e já recebi o gadget.
Criado por Gordon Williams este gadget permite fazer programas em JavaScript para controlo de pinos.
Este gadget custou £17.
O que é o Espruino Pico ?
É uma pequena placa com um microcontrolador que corre um interpretador de JavaScript permitindo de forma fácil o controlo de componentes electrónicos atrav és de pinos de I/O.
Tem tudo o que é necessário pré-instalado. Pode ser usado virtualmente a partir de qualquer equipamento que tenha uma porta USB. No caso do Windows requer instalação de drivers (ver mais a frente)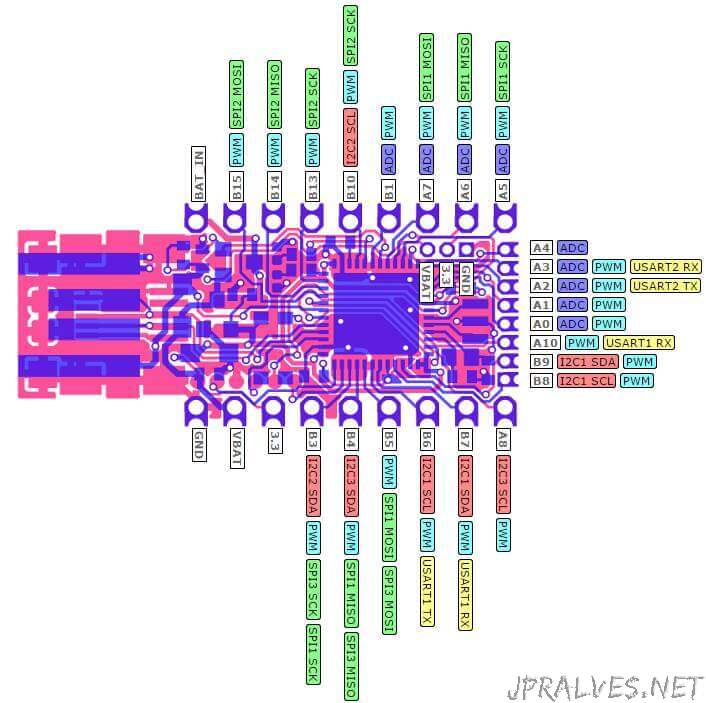 Purple boxes show pins that are used for other functionality on the board. You should avoid using these unless you know that the marked device is not used.
! boxes contain extra information about the pin. Hover your mouse over them to see it.
3.3v boxes mark pins that are not 5v tolerant (they only take inputs from 0 - 3.3v, not 0 - 5v).
3.3 is a 3.3v output from the on-board Voltage regulator.

GND

is ground (0v).

VBAT

is the battery voltage output (see the Espruino Board Reference).

ADC

is an Analog to Digital Converter (for reading analog voltages)

PWM

is for Pulse Width Modulation. This creates analog voltages from a digital output by sending a series of pulses.

SPI

is the 3 wire Serial Peripheral Interface.

USART

is a 2 wire peripheral for Serial Data.

I2C

is the 2 wire Inter-Integrated Circuit bus.
PINS NOT ON CONNECTORS
Funcionalidades:
Dimensões: 33mm x 15mm (1.3 x 0.6 inch)
22 pinos de

GPIO

: 9inputs Analógicos, 21

PWM

, 2 Serial, 3

SPI

, 3

I2C

Todos os

GPIO

são tolerantes a 5 volts (Arduino compatible)
Duas linhas de 9 pinos de 0.1", com uma terceira linha de 0.05" com 8 pinos no fim
Ligação

USB

Type A na

PCB

Dois LEDs on-board e um botão

STM32F401CDU6

CPU

-

ARM

Cortex M4, 384kb flash, 96kb

RAM

Regulador de tensão On-board de 3.3v 250mA, aceita voltagens de 3.5v a 16v
Corrente gasta em modo adormecido: <0.05mA - mais de 2.5 anos com uma bateria de 2500mAh

FET

On-board que pode ser usado para outputs de correntes altas.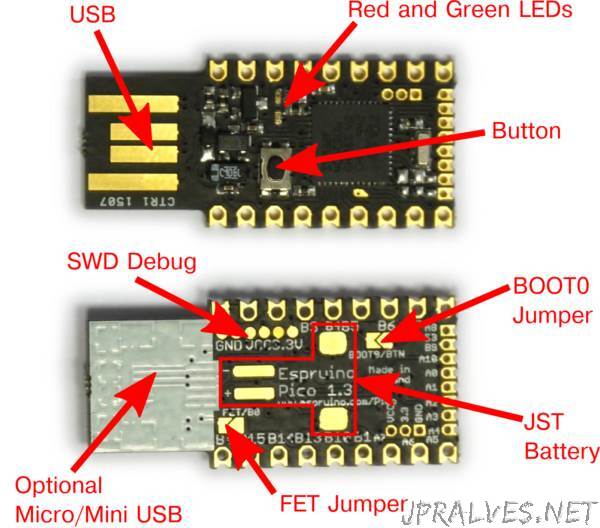 Instalação no PC Windows:
Instalação do driver no windows 8.
Fazer o download do driver (

STM32

Virtual

COM

Port Driver) da

ST

em http://www.st.com/web/en/catalog/tools/

PF257938

#.
Correr o executável "VCP_V1.4.0_Setup.exe".
Depois de instalado ir até à pasta: "C:\Program Files (x86)\STMicroelectronics\ Software\Virtual comport driver"
Em função da versão de 32 ou 64 bits correr o comando dpinst_x86.exe ou dpinst_amd64.exe
Neste momento existe uma nova porta Serie (

COM

).Verificar qual o numero da mesma através do "Device Manager".
Pode igualmente ser usado o

IDE

que foi escrito para o Chrome - Espruino Web

IDE
Agora podemos começar a escrever código:
escrever reset()
 `
---
| __| _ |_|
| | -| . | _| | | | | . |
||| || ||||||
|_| http://espruino.com
1v75 Copyright 2015 G.Williams
setInterval("digitalWrite( LED1,l1=!l1);",200);
setInterval("digitalWrite( LED2,l2=!l2);",400);
 `
Obviamente que muitos mais exemplos podem ser explorados… Mas isso fica para outra altura.
Links Úteis: