Today I am going to talk about Espruino Pico. Espruino Pico is the evolution of Espruino in a USB format. The Kickstarter campaign is over and I already got the gadget.
Created by Gordon Williams this gadget allows one to make programs in JavaScript for controlling pins of the board.
This gadget cost me £ 17.
What is Espruino Pico?
It is a small board with a microcontroller that runs a JavaScript interpreter allowing easy control of electronic components through I/O pins.
It has everything you need pre-installed. It can be used virtually from any device that has a USB port. In the case of Windows requires installation of drivers (see below)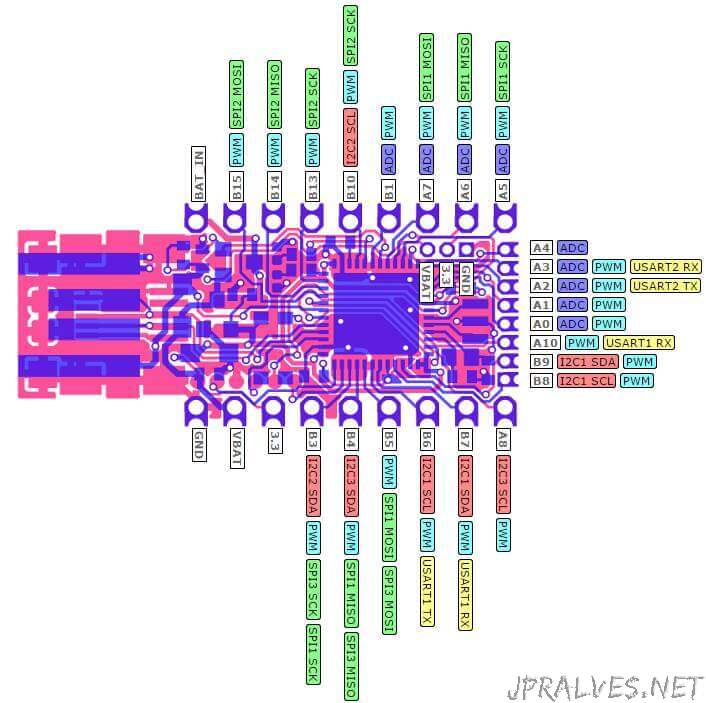 Purple boxes show pins that are used for other functionality on the board. You should avoid using these unless you know that the marked device is not used.
! boxes contain extra information about the pin. Hover your mouse over them to see it.
3.3v boxes mark pins that are not 5v tolerant (they only take inputs from 0 - 3.3v, not 0 - 5v).
3.3 is a 3.3v output from the on-board Voltage regulator.

GND

is ground (0v).

VBAT

is the battery voltage output (see the Espruino Board Reference).

ADC

is an Analog to Digital Converter (for reading analog voltages)

PWM

is for Pulse Width Modulation. This creates analog voltages from a digital output by sending a series of pulses.

SPI

is the 3 wire Serial Peripheral Interface.

USART

is a 2 wire peripheral for Serial Data.

I2C

is the 2 wire Inter-Integrated Circuit bus.
PINS NOT ON CONNECTORS
Features:
Dimensions: 33mm x 15mm (1.3 x 0.6 inch)
22 pin

GPIO

: 9 analog inputs, 21

PWM

, 2 Serial, 3

SPI

, 3

I2C

All GPIOs are 5 volts tolerant (Arduino compatible)
Two 9-pin 0.1 "lines, with a third 0.05" line with 8 pins at the end

USB

Type A connection on

PCB

Two on-board LEDs and one button

STM32F401CDU6

CPU

-

ARM

Cortex M4, 384kb flash, 96kb

RAM

3.3v 250mA On-board voltage regulator, accepts voltages from 3.5v to 16v
Current spent in sleep mode: <0.05mA - over 2.5 years with a battery of 2500mAh
On-board

FET

that can be used for high current outputs.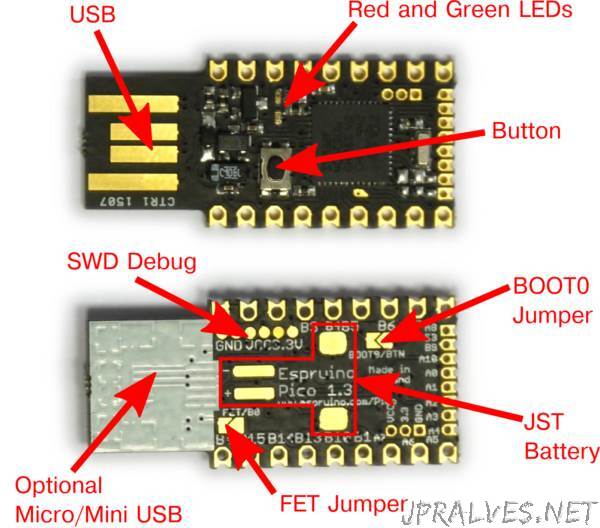 Installation on a Windows PC:
Driver installation on windows 8.
Download

ST

driver (

STM32

Virtual

COM

Port Driver) at http://www.st.com/web/en/catalog/tools/

PF257938

#.
Run the executable "VCP_V1.4.0_Setup.exe".
Once installed, go to the folder: "C:\Program Files (x86)\STMicroelectronics\ Software\Virtual comport driver"
Depending on the 32-bit or 64-bit version run the command dpinst_x86.exe or dpinst_amd64.exe
At this point there will be a new serial port (

COM

). Check the

ID

number through the "Device Manager".
You can also use the

IDE

that was written for Chrome - Espruino Web

IDE
Now we can start writing code:
Write reset()
`
---
| __| _ |_|
| | -| . | _| | | | | . |
||| || ||||||
|_| http://espruino.com
1v75 Copyright 2015 G.Williams
setInterval("digitalWrite( LED1,l1=!l1);",200);
setInterval("digitalWrite( LED2,l2=!l2);",400);
 `
Obviously many more examples can be explored … But that's for another time.
Useful links: