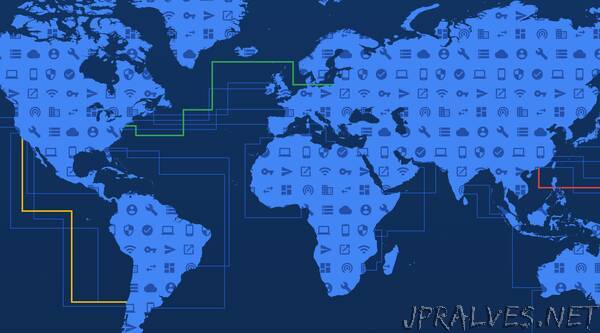 "Today, we're announcing Nuvem, a new transatlantic subsea cable system to connect Portugal, Bermuda, and the United States.
Named after the Portuguese word for "cloud," Nuvem will improve network resiliency across the Atlantic, helping meet growing demand for digital services. The new cable path will add international route diversity and support the development of information and communications technology (ICT) infrastructure for the continents and countries involved.
Studies show the positive trade, investment, and productivity gains a subsea cable can bring to a country. With improved internet affordability and access, societies can continue to modernize — people acquire skills and knowledge that open doors to new job opportunities, while businesses and governments increase productivity as a result of digital transformation. Nuvem's landing locations have embraced this opportunity and urgency, and are fast emerging as hubs for international connectivity.
Over the last few years, the Government of Bermuda has undertaken significant efforts to attract investment in subsea cable infrastructure and create a digital Atlantic hub — including passing new legislation to create cable corridors and streamline permitting. Nuvem will not only be the first cable to land under this robust environment, but the first to connect Bermuda with Europe.
"Bermuda has long been committed to the submarine cable market, and we welcome the Nuvem cable to our fast-growing digital Atlantic hub," said Walter Roban, Bermuda Deputy Premier and Minister of Home Affairs. "Bermuda looks forward to working with Google on its cable project — and on building a broader partnership to leverage the benefits of the investment in digital infrastructure."
"The Bermuda Business Development Agency (BDA) welcomes the announcement by Google that Bermuda will be the home of a new transatlantic cable on the path to becoming a digital hub of the Atlantic," said David Hart, CEO, Bermuda Business Development Agency. "The BDA has long advocated that Bermuda's centrality makes it an ideal landfall and interconnection point for submarine cables between the Americas, Europe and Africa and we are so excited these efforts have borne fruit. With around 95% of the world's communications being carried on submarine cable networks, Bermuda's role as an international data-transit switch will provide increased network resiliency and redundancy to countries on both sides of the Atlantic for decades to come."
Portugal has similarly become a port for subsea cables not only because of its strategic geographic location on the southwest of mainland Europe, but also because of the country's focus on bolstering the infrastructure of the digital economy. With plans to land in Portugal, Nuvem is the latest member of Portugal's subsea cable portfolio, which also includes Equiano, the recently-completed system that connects Portugal with Togo, Nigeria, Namibia, South Africa, and St. Helena.
"Google's investment incorporates our vision for Portugal in the telecom and data sectors: to establish our country as a thriving connectivity gateway for Europe, fostering robust connections with other continents. The Portuguese Government considers this investment very important and it was only possible thanks to the great articulation and dialogue between the ministry, the Portuguese entities and Google," said João Galamba, Portugal Minister of Infrastructure. "Our goal is to transform these information highways into catalysts that draw in supplementary investments in cutting-edge technology sectors propelling the nation towards an effective digital transformation. This aspiration has been our firm focus in recent months, driving our efforts to attract this type of investments by improving our communication infrastructures and by defining a clear roadmap for the sector."
"I congratulate Google on the expansion of its transatlantic subsea cable system, connecting Portugal, Bermuda, and the United States. This is yet another example of the growing U.S. investment in Portugal," said Randi Charno Levine, U.S. Ambassador to Portugal. "Subsea cables serve as the backbone of global communication, linking continents and facilitating the exchange of data, information, and ideas worldwide. The addition of a new subsea cable enhances the resilience of our communications infrastructure while improving internet affordability. This is a crucial factor for economic development, education, and social inclusion."
On the U.S. end, Nuvem will land in South Carolina. The cable's arrival will further establish the state as a growing technology center, increasing connectivity and job diversification. Nuvem will follow in the footsteps of Firmina, which landed in South Carolina earlier this year and that will ultimately connect with Argentina, Brazil, and Uruguay.
"The additional cable connecting to South Carolina reaffirms our state's position as a leader in cutting-edge technologies," Gov. Henry McMaster said. "We celebrate Google's continued investments in digital infrastructure and look forward to seeing the positive economic impacts across the state and the globe."
Expected to be ready for service in 2026, Nuvem will add capacity, increase reliability, and decrease latency for Google users and Google Cloud customers around the world. Alongside Firmina and Equiano, it will create important new data corridors connecting North America, South America, Europe, and Africa — serving as the underwater roots that strengthen the intercontinental network lattice while bringing together people and economies around the world."