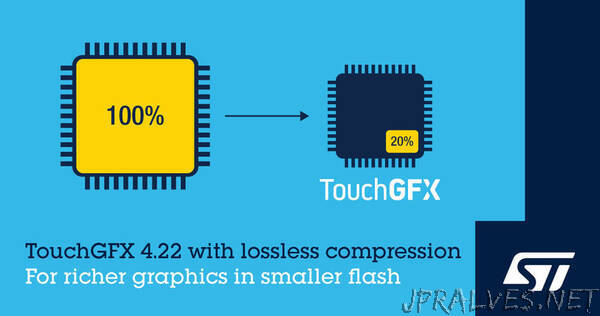 "STMicroelectronics has released TouchGFX 4.22 user-interface software with improvements that include advanced memory-saving image compression and built-in information sharing.
TouchGFX 4.22 automatically selects the optimum compression for images and graphics, greatly reducing the system memory requirement without compromising user-interface performance or visual quality. Applying L4, RLE1 , or LZW9 algorithms to items expressed in the efficient L8 format, supported by TouchGFX and the STM32 Chrom-ART Accelerator™, achieves a compression factor from 20% to 99%. The compression settings can be individually adjusted in TouchGFX Image Manager. This new easy-to-use feature lets designers choose lower density flash ICs for the user-interface controller hardware and hence lower their application's bill of materials.
The second change in TouchGFX 4.22 is Live Callouts, where the TouchGFX team will call out tips and tricks, specific features, or opportunities to the user's attention directly inside the TouchGFX Designer environment.
TouchGFX is available free of charge and is simple to begin using, as part of the STM32 microcontroller development ecosystem. Highly regarded for keeping the developer in control, it is also recommended for best user-interface performance on STM32 MCUs, leveraging the MCUs' hardware graphics features including the Chrom-ART and NeoChrom GPU Accelerators."