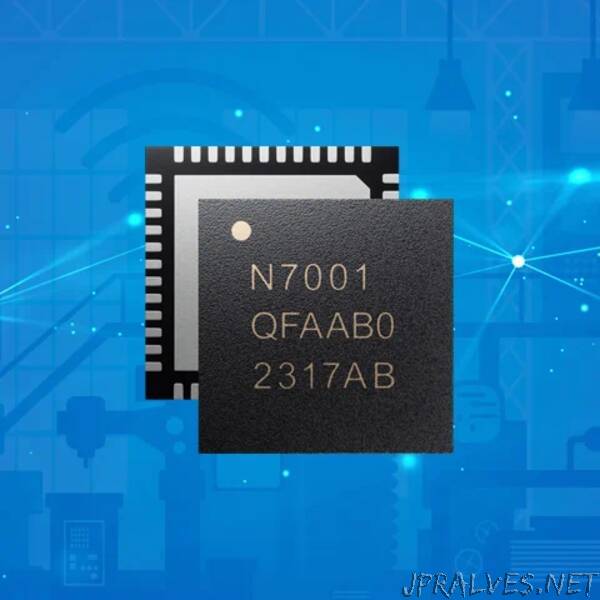 "14Jun
2023Oslo, Norway
Product nRF7001 Wi-Fi Connected Health Connected Home Industrial Automation Logistics and smart transportation Retail and Payment Top Story
nRF7001
The nRF7001 IC offers a low-cost Wi-Fi 6 solution for low power Wi-Fi IoT products requiring 2.4 GHz single band connectivity only
Nordic Semiconductor today announces it has expanded its nRF70® Series of Wi-Fi® 6 companion ICs with the introduction of the nRF7001™. Complementing the 2.4 and 5 GHz capable nRF7002™, the nRF7001 offers a secure, low power Wi-Fi 6 companion IC for end products requiring 2.4 GHz connectivity only. The nRF7001 lowers the cost of the bill of materials (BoM) for designs requiring single band capability for smart home, smart city, industrial automation, and other low power Wi-Fi IoT applications.
The nRF70 Series Wi-Fi 6 companion ICs provide low power, robust, and secure Wi-Fi connectivity as well as Wi-Fi assisted locationing based on Service Set identifier (SSID) scanning.
Designed for use with Nordic SoCs and SiPs
Like the nRF7002, the nRF7001 companion IC can be used together with Nordic's award-winning nRF52® and nRF53® Series multiprotocol Systems-on-Chip (SoCs) and the nRF9160™ cellular IoT (LTE-M/NB-IoT) System-in-Package (SiP). It can also be used in conjunction with non-Nordic host devices.
"The nRF7001 is the perfect complement to the nRF7002 because it offers a drop-in, single band alternative to the dual band companion IC for products that only need to operate in the 2.4 GHz band," says Ioannis Glaropoulos, Technical Product Manager with Nordic Semiconductor. "The nRF7001 is designed to provide highly reliable 2.4 GHz connectivity and offers all the Wi-Fi functionality of the nRF7002—including compliance with the latest standard and power saving features—but at a lower cost. When matched with Nordic's nRF52840 operating as a host processor, the nRF7001 offers a cost effective yet high performance Wi-Fi solution."
The nRF7001 companion IC supports Station (STA), software emulated Access Point (SoftAP), and Wi-Fi Direct operation, and is compatible with the IEEE 802.11b, a, g, n ("Wi-Fi 4"), and ax ("Wi-Fi 6") standards. The product also offers ideal coexistence with Bluetooth® Low Energy, Thread, and Zigbee. The nRF7001 supports Target Wake Time (TWT), a key Wi-Fi 6 power saving feature. Interfacing with the nRF52840 or another host processor is done via Serial Peripheral Interface (SPI) or Quad SPI (QSPI). The nRF7001 offers a single spatial stream, 20 MHz channel bandwidth, 64 QAM (MCS7), OFDMA, up to 86 Mbps PHY throughput, and BSS coloring.
Making it simple for developers
Developers can make a quick and easy start on nRF7001-based designs thanks to its support in the nRF Connect SDK, Nordic's scalable and unified software development kit for building products based on the company's wireless devices. To develop applications with nRF7001, the nRF7002 Development Kit (DK) can be used, as the nRF Connect SDK supports emulating the nRF7001 IC on that DK. The nRF7001 companion IC, nRF7002 DK, and the nRF Connect SDK make it simple for product designers to add 2.4 GHz Wi-Fi capabilities to their products, allowing them to easily connect to nRF Cloud Services and communicate with other devices over a Wi-Fi network.
The nRF7001 companion IC and the nRF7002 DK are available now from Nordic's distribution partners."