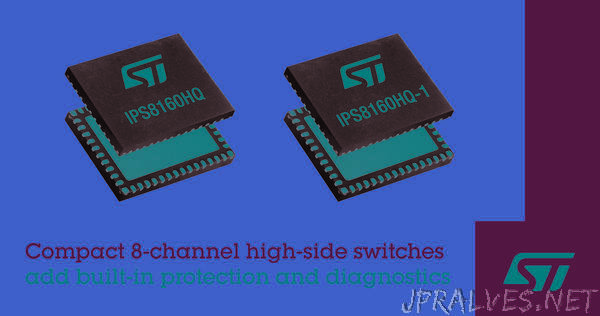 "STMicroelectronics' IPS8160HQ and IPS8160HQ-1 high-side switches provide eight channels, in a compact QFN48L package, with the added value of built-in protection and diagnostics.
This unique combination of features helps save space and enhance reliability in PLC modules used for driving heavy loads and unidirectional motors in vending machines. Further applications include I/O peripherals in factory automation equipment, computer numerical control (CNC) machines, and in general for controlling resistive, capacitive, and inductive loads with one side connected to ground. Both switches have low on-resistance (RDS(on)) of 160mOhm (typ.at 25ºC), which helps minimize power dissipation.
Overload (OVL) and junction over-temperature (OVT) protection for each channel prevent damage to circuits while minimizing any disruption caused by temporary faults. Overloaded channels turn off and restart automatically, keeping junction and case temperatures below safe maximum levels, while non-overloaded channels continue to operate normally. The device turns off immediately in the event of ground disconnection. There is also overvoltage protection, undervoltage lock-out (UVLO), short-circuit protection, output-current limitation, and an over-temperature fault indicator.
IPS8160HQ has a preset current limit of 0.7A. The IPS8160HQ-1 current limit is 1A. Both switches have an operating-voltage range from 10.5V to 36V and are featured to facilitate meeting international standards for industrial equipment. These include IEC 61131-2 for process controllers and IEC 61000 specifications for electromagnetic compatibility (EMC), electrostatic discharge (ESD) immunity, electrical fast-transient (EFT/burst) immunity, and surge immunity.
Users can quickly evaluate the IPS8160HQ and IPS8160HQ-1 driving and diagnostic capabilities with the X-NUCLEO-OUT9A1 and X-NUCLEO-OUT19A1 digital output expansion cards for STM32 Nucleo boards, which can be connected to 1A industrial loads.
The IPS8160HQ and IPS8160HQ-1 are in production now, housed in an 8mm x 6mm x 0.9mm-pitch QFN48L package, from $4.02 for orders of 1000 pieces."