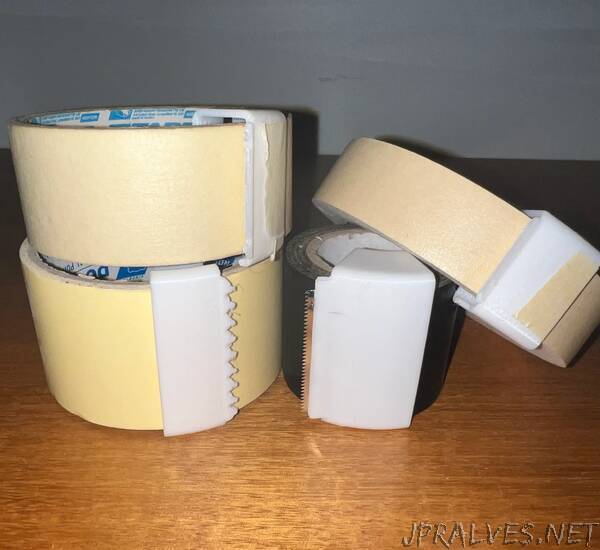 "A parametric tape cutter. Simple to use, slips over the role of tape to aid in cutting.
Pre generated are different sizes to suit most tapes, if one is missing please let me know.
The cutter has a couple of different teeth options to suit the tape you have.
When not in use slide the cutter back around the tape. You can then attach the tape to the cutter making it easier to find the edge next time.
Options
- Cutter
- Teeth: Jagged teeth along the width of the tape. Can cut paper and thin plastic tape.
- Smooth: A straight edge. Only works for paper tape, but give a clean cut.
- Hybrid: Edge teeth then smooth.
- Blade: Prints with a 0.5mm slot so a blade (the ones from cling film boxes are ideal) can be inserted. This can cut any tape, and give a pretty clean edge.
- Diameter: the internal diameter of the role of tape.
- Width: The width of the tape.
- Thickness: Thickness of the layers of tape on a role.
Parametric model:
The parametric model has many other options, all are documented in the Customizer. Let me know if you have questions."