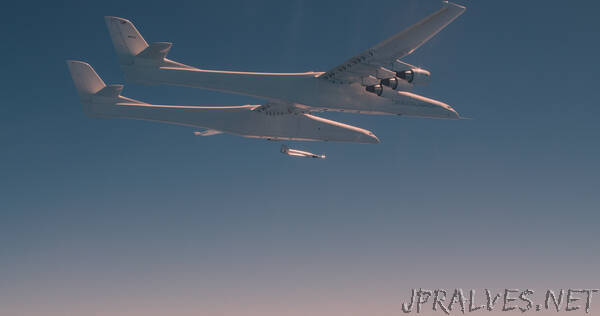 "Stratolaunch LLC announces it has successfully completed a separation release test of the Talon-A separation test vehicle, TA-0. The flight was the eleventh for the company's launch platform Roc and the second time the team has conducted flight operations in Vandenberg Space Force Base's Western Range off California's central coast.
The flight, which lasted a total of 4 hours and 8 minutes, performed risk reduction by demonstrating the Talon-A launch system can cleanly and safely separate hypersonic vehicles from Roc's center-wing pylon. The test also confirmed telemetry between the vehicles and Vandenberg Space Force Base's communication assets, assuring that back-up telemetry data collection will occur during future hypersonic flight tests.
With this landmark test complete, the team will progress toward its first hypersonic flight of the TA-1 expendable testbed in late summer of 2023.
"Today's test was exceptional," said Dr. Zachary Krevor, Chief Executive Officer and President for Stratolaunch. "It was exhilarating to see TA-0 release safely away from Roc, and I commend our team and partners. Our hardware and data collection systems performed as anticipated, and we now stand at the precipice of achieving hypersonic flight."
"We also thank the Western Range, Vandenberg Space Force Base, for their continued support of our test operations. They have provided us with multiple flight opportunities and have been a great partner adapting to our various schedule requests as we adjusted our release window. We look forward to working together during our future operations pursuing hypersonic flight," he said."